Ana Maria Ceballos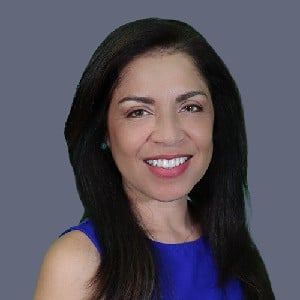 "I'm proud to say that I learned for 20 years, and I'm proud to see that I'm part of my community and part of the United States."
Adept at formulating, implementing, and evaluating cross-functional decisions related to workforce management, Ana Maria Ceballos enables each organization she works with the ability to achieve set objectives and reach them efficiently. She is an expert at creating and implementing process road maps and optimizing work efficiency and business performance.
Ana obtained her M.B.A in Business Administration & Management from Nova Southeastern University after obtaining her bachelor's degree from Universidad Pontificia Bolivariana in Colombia, her native country.
"I graduated from college in my home country Colombia, and when I came to the United States, I worked at Lloyds TSB Bank, a British bank in Miami. Also I volunteered at several places, helping people at the libraries, children in need, and helping to clean up the beaches in Miami."
Ana would begin volunteering with the University of Miami Rescue reef, which is dedicated to helping bring awareness to keeping the oceans clean and cleaning up beaches across South Florida. She also dedicates her time to the Broward Children's Center, a non-profit organization to help children with special needs.
In 2007, Ana studied and became a certified Volunteer Income Tax Assistance (VITA) Program volunteer.
"I was a volunteer for the Voluntary Income Tax Assistance Program (VITA) for two years. I wanted to be able to not only learn and get a firm grasp on the finances of America but to be able to help fellow immigrants like myself."
She helped to grow the VITA program and soon became a Quality Reviewer serving at the Hispanic Unity main site. In 2010, she officially joined the team as the VITA Team Leader, with her role being to supervise and grow the program in the Broward County area.
During her 11-year tenure in the VITA program, Ana managed over 400 volunteers and through her work, she has helped to bring $35 million to communities across Broward.
Joining Consolidated Credit in September 2022, Ana's focus has been on the KOFE platform, and how it can help companies, their employees, and clients. KOFE is a platform that is available to companies, their staff, and their consumers in an effort to increase their financial education.
"One of the things that I love about KOFE is that through this project we can easily engage employees, members, or customers with the resources that the platform provides… In this exact moment that we are living in with inflation, and what is projected to come next year, we need to be prepared, so KOFE in my opinion is a very useful tool."