Jim Hutchens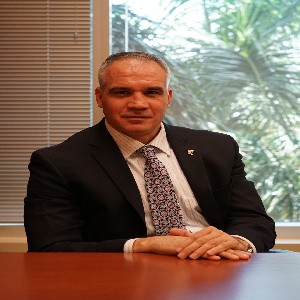 "Libraries have always been places where people could look to learn things, such as financial literacy, workforce development, and homeownership just to name a few."
The Alvin Sherman Library at Nova Southeastern University is one of the largest libraries in the southeastern United States, amassing over 325,000 square feet. Jim Hutchens, now Vice President for Information Services and University Librarian, has worked in and around the library since 1999.
"As a university library, our core responsibility is to support students and faculty, supporting the curriculum and research output, but what we do for the public is equally important.'
Originally from Pittsburgh, Mr. Hutchens graduated from Clarion University of Pennsylvania with his Bachelor of Arts in History and his Master of Science in Library Science. Right out of college he would go on to work at Penn State for three years first as the Assistant Librarian until becoming the Bibliographic Instruction Coordinator before his departure in 1999. While there he would develop an online training module for Circulation Student Assistants and be responsible for the inception of various library orientation and skills workbooks used by multiple courses.
Fate would see Mr. Hutchens move down to Florida where his deep passion for library services would see him ascend the ladder at Nova Southeastern.
"Right out of college, I worked at Penn State for 3 years, and then I just happened to make my way down here. Once I was at Nova Southeastern University, through luck and maybe my interest, I ascended up the ladder to now my fifth position, from the Librarian for Business and Technology in 1999, to Vice President in 2017."
The Alvin Sherman Library is a joint-use library, where half the funding comes from the county, and the other half comes from the university. That agreement with the county allows anyone that works, lives or attends classes in Broward County full access to the library. In the last 5 years under Mr. Hutchens' direction, he has been working on making the library a venue for fiscal literacy, as well as finding a partner to make that dream a reality.
"We were looking for a few grants and happened to be awarded a few from Truist. This is really where I got into trying to make the Sherman Library a place for fiscal literacy. I went to a Consolidated Credit breakfast with a couple of my colleagues, and I heard about the Advisory Council, and I thought, this would be a good venue to get more involved with, raise awareness and let people really know what we can do at the Sherman Library, and how we could be a partner for folks. We're looking for more grants and I'm hoping to have a big homeownership conference here sometime next Spring."
As an integral part of NSU's student and faculty support services, the Sherman Library staff is committed to providing excellent service. Our work with the public is equally important and especially rewarding. Just recently they held a big health and wellness fair called, "A Day for Children."
"One of the biggest demographics that we serve is underserved families with young children, and we've done very well with that. That's something that has been very important to us, that we really help those folks out. But what I've wanted to do is have a greater impact on the adult community. For younger ones, it's language and literacy, it's health literacy, and for adults, it's fiscal literacy and entrepreneurial training, homeownership and workforce development, and those are things I'm really trying to build."
The biggest point Jim wants to get across is how useful and impactful a resource the Sherman Library can be.
"What's important to me right now is that people understand that the Alvin Sherman Library is a place that is our mission to be the premier research, cultural, lifelong learning center for both NSU and the community. I really hope people understand that we can change their lives if they just come into the building. It can be something as innocuous as coming in, and talking to a reference librarian about an interest, or through one of our programs. Seeing the true impact we can make on a community and just people bettering their lives is what it's all about for me."