Sandra Tobon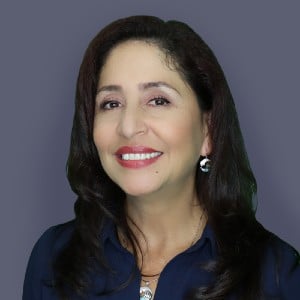 Sandra Tobon is living proof of the American Dream and now dedicates her life to helping people find it. Originally from Colombia, Sandra Tobon came to the United States in 2000 looking for better opportunities to succeed financially. Now Sandra oversees the planning, monitoring, and evaluation of all Housing Counseling Services and Community Outreach activities at Consolidated Credit. She is a HUD-certified housing counselor, a certified educator, and a counselor in personal finance. She holds a bachelor's degree in Business Administration from Florida International University.
Sandra has more than 18 years of experience managing, researching, developing training, and integrating social-economic programs from inception to completion. In her role with Consolidated Credit, Sandra and her team of housing counselors and financial coaches provide services that support the financial well-being of the community through education, one-on-one financial coaching, and wealth-building projects.
Sandra says she did not seek a finance job, but a conversation with a friend made her look more closely at it. She fell in love with it when she realized she could help people obtain the education they needed to live a better financial life.
Sandra's start in financial counseling
Sandra began her career at A New Horizon Credit Counseling Services, a non-profit credit counseling organization dedicated to providing counseling services and financial education programs. She was afforded the opportunity to obtain her credit counseling certification and quickly rose the ladder.
However, it wasn't until her tenure at Hispanic Unity of Florida, Inc. that she was able to bring the programs she created to the community. After completing her certifications to become a financial coach, one of the first programs she implemented was teaching high school students the importance of financial education.
"I used to go to the schools to teach young adults about savings, credit, and the first step to building their financial lives. I feel empowered when I help someone build a better future. I also believe that God puts us on the right path in life, and He guided me here for a reason." Becoming a community leader.
Moving up the ladder at Hispanic Unity of Florida, Sandra became the Housing and Financial Literacy Manager, a department she helped to create. Seven years ago, as a counselor, she realized that many people were asking, "What should I do to buy a house, what are the steps I need to follow to realize my dream of buying a home"? After bringing this idea up to the Director of the organization and attaining the proper funding, Sandra built the program from scratch.
When she left her position at Hispanic Unity, she had four certified housing counselors under her, serving over 250 clients a year.
A chance phone call from Maria Gaitan, Consolidated Credit's former Director of Housing Counseling and Community Outreach, enlightened Sandra on an opportunity at Consolidated Credit. "I knew about Consolidated Credit and loved the organization's mission; it was right up my alley because they are a financial education advocate and have all the housing programs that I am very passionate about. So, therefore, I did not hesitate and happily accepted the opportunity. I currently oversee the housing program, the community outreach program, and KOFE a financial wellness platform; with a group of seven certified housing counselors, two financial coaches, and three managers".
Sandra Tobon's greatest achievements
Through all her work over the years, Sandra has received a range of awards, but she says she is prouder of the work she has been able to accomplish.
"I am proud to be part of this organization and do the work I like. The fact that I started in customer service and worked my way up makes me proud. Every day, I look forward to ways to improve, overcome new challenges and learn lessons that help me grow and improve as a leader."
One such achievement near and dear to her heart was when she helped a low-income single mother purchase a home for her and her daughter. Even though her client worked countless hours and saved every penny she could, it was not until she met with Sandra that the woman's fortunes began to change.
"My client was a janitor at a hospital; therefore, her income was not high enough to qualify for a mortgage loan. Most people begin the program and are averse to change, but she was thorough about everything we taught her. She followed a detailed budget, worked hard to increase her savings, and paid off her debts. We guided her to the process of obtaining down payment assistance from the City of Hallandale, and she was able to purchase her first home."
It's the lives that she gets to impact that makes Sandra live for what she does.
"When my client received the keys to her new home, she could not stop crying she was extremely grateful. It was a great feeling! Of course, it didn't happen overnight, but she stuck with the program and made her dreams come true. That experience helped me understand that perseverance and hard work are crucial when someone wants to achieve a dream. I like helping people. I like what I do, therefore, I love my job."