Take the Right Steps to Cope with Financial Stress
How to identify – and then reduce – high stress levels caused by money challenges.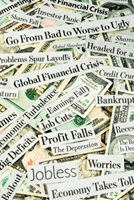 We've all been there. Money gets tight, debt problems loom on the horizon and despite your best efforts to remain cool, calm and collected your stress levels go up and up until you're snapping at family members and spacing out at work wondering how you're going to keep all the balls you're juggling in the air.
First, take a deep breath… no kidding. In fact, take a few. The financial challenges you're facing can be better handled with a clear focus and a calm mind. That stress isn't helping and in many cases, it may be holding you back from moving forward because it's got you trapped like a deer in headlights.
The information below is designed to help you recognize the symptoms of financial stress so you can identify it in your life and take action to fix it. Then we give you four easy steps to take so you can make a plan and begin lifting some of that emotional and mental burden off your shoulders. And remember, if you're stressed over debt the best way to relieve that pressure is to find a path back to stability. Call Consolidated Credit today at (844) 276-1544 to speak with a certified credit counselor.