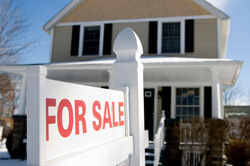 Buying a home is a one of the most serious and important financial decisions most consumers make in a lifetime. Your home is your family's haven , as well as being the biggest asset in your portfolio. A good purchase can set you up for financial success, while the wrong mortgage can put your credit and your financial future at risk. It's important to have a thorough understanding of the process to help you make the right choices ? especially for first time homebuyers! This helps avoid problems and minimizes stress.
If you're getting ready to purchase a new home and you have questions, our HUD-approved housing counselors can provide the information you need to make informed decisions as you move forward. Call Consolidated Credit at 1-800-435-2261 to speak with a HUD-certified housing counselor for free.
Getting Ready to Buy a Home
If you're thinking of buying a home, you should start by thinking about your situation. Purchasing a home before you are ready can put your financial future at risk. You can seriously damage your credit, face foreclosure and even end up in bankruptcy if you buy more home than you can afford.
Being able to answer the following questions will make the process easier as you start to look for your new home:
Is it the right time for you to buy a home?
How much can you afford to pay for a monthly mortgage payment?
How much space do you need?
What areas of town do you like?
After you answer these questions, you can make a "To Do" list and start doing casual research. Talk to friends and family, drive through neighborhoods, and look in the "Homes" section of the newspaper.
Is it the Right Time for You to Buy a Home?
This question involves taking a careful assessment of your financially stability.
To help find out if you're ready to buy, ask yourself the following questions:
Do I have a steady source of income?
Have I been employed on a regular basis for the last 2-3 years?
Is my current income reliable?
Do I have a good record of paying my bills?
Do I have a lower number of outstanding long-term debts, such as car payments?
Do I have money saved for a down payment?
Do I have the ability to pay a mortgage every month, plus additional costs?
If you can answer "yes" to these questions, you are probably ready to buy a home.
How Much Can You Afford to Pay for a Monthly Mortgage Payment?
When you buy a home, the lender considers your debt-to-income ratio, which is a comparison of your income versus housing expenses and other non-housing obligations. Mortgage lenders always calculate your debt-to-income ratio based on gross (pre-tax) income. Non-housing expenses include long-term debts, such as car or student loan payments, alimony or child support, as well as open lines of credit, such as your credit cards.
According to the FHA, your monthly mortgage payments should not exceed more than 29% of your gross income. In the world of mortgage lending, your mortgage payment combined with non-housing obligations should not exceed more than 41% of your income, although we recommend for consumers to keep their debt-to-income ratio below 36%. It's important to note that your lender will also consider the cash you have available for a down payment and closing costs, as well as your credit history when determining your maximum loan amount.
Determine Your Housing Needs before You Start Your Search
Your home should fit way you live, with spaces and features that appeal to the whole family. Before you begin looking at homes, make a list of your priorities. For example, while you may be able to afford a 6-bedroom house, if you only have three people in your family do you really need three extra rooms of space? Or will your family get much use out of a pool? If not, buying a home with a pool is going to be a big unnecessary expense.
Every household has different needs when it comes to a home, so you should really think about what you want before you start to look. Put together a list of needs and wants in your new home, prioritizing the "want" list so you know the hierarchy of what you want to look for. Anything on the "need" list should be considered a deal-breaker if a home you're considering doesn't have that feature.
Selecting the Right Real Estate Agent
It's not necessary to work with a real estate agent when you buy a home, but it can make the process a lot easier – especially if you are a first time homebuyer. If you prefer to work with an agent, start by asking family and friends if they can recommend someone that they've worked with before. If you can't find agents that way, look online through independent third party review websites and social media sites. Compile a list of several agents based on what you find and talk to each before you choose the agent you want to use.
You want an agent who listens well and understands your needs, and whose judgment you trust. The ideal agent knows the local area well and has resources and contacts to help you in your search. Overall, you want to choose an agent that makes you feel comfortable and can provide all the knowledge and services you need.