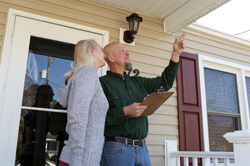 Now that you've managed to find a home that fits your needs, the next step is to make an offer on the property. Often, issues can arise during the offer process that can impede or completely stop the home buying process. It's important to be prepared and know what to expect when you make an offer on a house so you can increase your chances of success. With the right understanding, the process of making an offer can move forward smoothly into securing your mortgage.
If you have questions about making an offer on a new home, a HUD-approved housing counselor can provide the information you need. For free homebuyer counseling, please call Consolidated Credit today at 1-800-435-2261 to speak with a housing counselor for free.
What Does an Offer Include?
If you are working with a real estate agent, your agent will assist you in making an offer. Otherwise, you need to have as much information as possible so you can proceed successfully on your own. If you are a first-time homebuyer, we recommend you should retain a real estate agent to make this process easier.
Your offer will include the following information:
A complete legal description of the property
Amount of earnest money (see below)
Down payment and financing details
Proposed move-in date
Price you are offering
Proposed closing date
Length of time the offer is valid
Details of the deal
Remember that a sale commitment depends on negotiating a satisfactory contract with the seller, and not just making an offer. Just because you made an offer does not mean you are locked into buying that property. After all, most home inspections occur after your initial offer and if something serious is found, you may choose to walk away from the deal.
Determining Your Initial Offer
A real estate agent can be invaluable in determining how much you should offer in the first round. If you don't have a buyer's agent, it's important to remember that the agent works for the seller. Make a point of asking the agent to keep your discussions and information confidential. If you have a buyer's agent, listen to your real estate agent's advice, but follow your own instincts on deciding a fair price.
Calculating your offer should involve several factors:
What homes sell for in the area
The home's condition
How long it's been on the market
Financing terms
The seller's situation
By the time you're ready to make an offer, you should have a good idea of what the home is worth and what you can afford to pay. Be prepared for give-and-take negotiation once you've made the initial offer, since it's common to have this kind of negotiation when buying a home. The buyer and seller often go back and forth until they can agree on a price.
Understanding Earnest Money and How Much Do I Need?
Earnest money is money that you put down to demonstrate your seriousness about buying a home. It must be substantial enough to demonstrate good faith and is usually between 1-5% of the purchase price, though the amount can vary with local customs and market conditions. If your offer is accepted, the earnest money becomes part of your down payment or closing costs. If the offer is rejected, the money is returned to you. However, if you back out of a deal, you may forfeit the entire amount.
The Home Inspection
A formal inspection is usually conducted either just before or just after you make an offer ensure the property is up to par and that there are no issues with the home. A home inspection may technically be optional, but it's definitely an option you want to take to avoid potential problems with your new home. In general, most home inspections run between $400 and $600. The price varies based on the size of the home, home features such as an in-ground pool and whether you include a termite inspection.
An inspector checks the safety of your potential new home. Home Inspectors focus especially on the structure, construction, and mechanical systems of the house and will make you aware of any repairs that are needed. The inspector does not evaluate whether or not you're getting good value for your money. Generally, an inspector checks (and gives prices for repairs on):
The electrical system
Plumbing and waste disposal
The water heater
Insulation and ventilation
The HVAC system
Water source and quality
The potential presence of pests
The foundation
Doors, windows, ceilings, walls, floors, and roof
Be sure to hire a home inspector that is qualified and experienced.
It's a good idea to have an inspection before you sign a written offer since, once the deal is closed, you've bought the house as is. On the other hand, you may include an inspection clause in your offer when negotiating for a home. An inspection clause gives you an "out" on buying the house if serious problems are found or gives you the ability to renegotiate the purchase price if repairs are needed. An inspection clause can also specify that the seller must fix the problem(s) before you purchase the house. If you have earnest money included with your offer, an inspection clause can help you avoid forfeit of this money if problems are found.
You are not required to be there for the inspection, but it's a good idea. Following the inspection, the home inspector will be able to answer questions about the report and point out any problem areas. This is also an opportunity to hear an objective opinion on the home you want to purchase and it is a good time to ask general, maintenance questions. If your home inspector discovers a serious problem a more specific inspection may be recommended.
Health-Related Inspections & Risks
It's a good idea to consider having your home inspected for the presence of a variety of health-related risks, including radon, gas leaks, asbestos or possible problems with the water or waste disposal system. This is especially true for older homes, since they may have been constructed with materials that have since been banned for commercial use. You may want to have the home inspected to help ensure the health of your family.
For instance, if the house you're considering was built before 1978 and you have children under the age of seven, you should get an inspection for lead-based paint. Lead flakes from paint can be present in both the home and in the soil surrounding the house. The problem can be fixed temporarily by repairing damaged paint surfaces or planting grass over effected soil. Hiring a lead abatement contractor to remove paint chips and seal damaged areas will fix the problem permanently.
A note on power lines: Although some people consider power lines to be a health risk, there are no definitive research findings that indicate exposure to power lines results in greater instances of disease or illness.
Other Issues to Consider before You Buy
You should always check to see if the house is in a low-lying area, in a high-risk area for natural disasters (like earthquakes, hurricanes, tornadoes, etc.) or in a hazardous materials area. Be sure the house meets building codes. Also consider local zoning laws, which could affect remodeling or making an addition in the future. Your real estate agent should be able to help you with these questions.
A Special Note on Obtaining Legal Representation
Now that you are ready to secure your mortgage, you may consider getting a real estate attorney to represent you during the rest of the process. Laws vary by state, but some states even require a lawyer to assist in several aspects of the home buying process; other states do not, as long as a qualified real estate professional is involved. Even if your state doesn't require one, you may want to hire a lawyer to help with the complex paperwork and legal contracts. A lawyer can review contracts, make you aware of special considerations, and assist you with the closing process. Your real estate agent may be able to recommend a lawyer. If not, shop around. Find out what services are provided for what fee, and whether the attorney is experienced at representing homebuyers.