Instead of blowing what little money you have on a spring break filled with wet T-shirt contests and beach parties, how about a cheaper and nobler week? On an "alternative" spring break, college students spend the usually hedonistic holiday volunteering for community service or charity work.
But it's not all altruistic: Those students save as much cash as they earn in karma. From working with underprivileged kids to building houses in Third World countries, students can get their costs of food, lodging, and recreational activities covered – but not the travel to actually get there. That's your problem.
Still, you can save some serious money while doing serious work in exotic locales.
Here's our Top 5 at a glance. Read on for the hard numbers…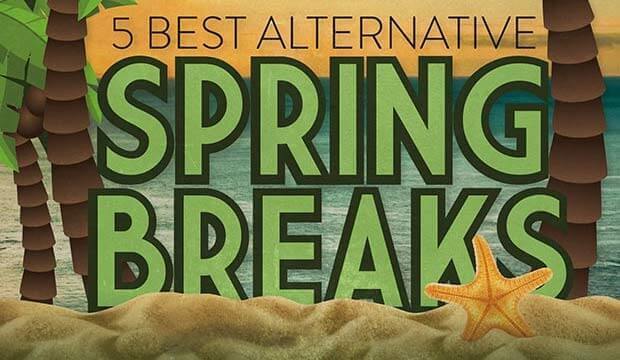 When many people hear "Habitat for Humanity," they think of volunteers building new houses in impoverished cities. But they also repair homes in Hawaii…
The work: The weather in Maui may be balmy, but the sea air and storms also do this, according to Habitat for Humanity: "rust the screens and corrodes the windows" It also eats through roof shingles, and the repair costs are more than some families can afford. You'll reseal exteriors, replace window frames, and repair roofs on the beach.
The play: After an 8 a.m. to 5 p.m. workday, you're free to party on the island. Plus, the $30 "insurance fee" covers scheduled activities like surfing, scuba diving, and bungee jumping.
The catch: You can't go alone. Only groups of five or more can sign up. "At this time, there are no opportunities for individuals to participate," Habitat says. Then again, you don't need construction experience because everything is taught on site. So recruit your friends.
The cost: Hawaii only costs $150 per person, plus $30 in insurance and $10 per day for food. (You'll sleep safe and free in local churches or volunteer centers.) That's a total of $250 per person. Other destinations include a mountainside in Arkansas Valley or the open fields in Wichita Falls, Texas for $150 each. Or choose from over 190 more.
The comparison: Compare $250 for a week in Maui to paying your own way. The average cost of a hotel stay is more than $304 per night.
The deadline: Feb. 8-April 14, 2015 to apply for spring break.
From child literacy programs to building community gardens, United Way offers a variety of volunteer opportunities all across the United States.
The work: Help build new homes for those living in substandard housing in El Paso, Texas or Biloxi, Mississippi. Or head to Williamson County, Tennessee, where you'll design, till, and plant your own garden and teach non-English speaking residents about gardening.
The play: When the workday ends, United Way arranges evening activities for its volunteers, including bonfires on the beach, organized sports, and – if you decide on the Jersey Shore – a free trip into New York City.
The catch: Depending on which trip you choose, you could pay up to $400.
The cost: Trips to El Paso, Biloxi, and Williamson County are all $250 per person. The rest are $395 per person.
The comparison: You'll spend an average of $732 on just a hotel for six nights in Jersey City, according to Travelocity.
The deadline: There are individual sign-up dates for all of the one-week trips, which run the first through the last week of March 2015.
The best part of this weirdly named site is its search function that lets you combine your desired spring break activity (like sports or working with animals) with a location that offers it…
The work: Want to work with animals this spring break? Join i-to-i on the coastline of Costa Rica, working to preserve endangered wildlife by collecting data and learning how to safeguard turtle nests on the beach. The organization also offers opportunities to work with children and the elderly.
The play: The Costa Rica trip comes with free surf lessons. You can also spend your free time learning the language or touring the island.
The catch: Besides the standard "you pay travel," nothing really.
The cost: Lodging, food and all activities for a week in Costa Rica are $1,019.15.
The comparison: Six nights in a hotel in San Jose will set you back an average of $594, according to Expedia — and that's without meals or surf lessons.
The deadline: Accepted on a rolling basis.
These trips are designed specifically for the outdoorsy type interested in spending spring break in the state parks across the country, from Florida to California.
The work: Practice "environmental maintenance" – cleaning up debris from national parks and building or repairing trails and landscaping. No experience is necessary.
The play: Hiking, canoeing, fishing, and roasting marshmallows by the campfire. After volunteering during the day, you're free to explore the park at night.
The catch: There's a $500 registration fee for the group, which must have between 8 and 15 people in it.
The cost: A cozy stay in a cabin or bunkhouse is $175 for one week.
The comparison: $903 for a week in a cabin near the Buffalo National River, offered by Buffalo Outdoor Center.
The deadline: One month before your desired start date.
Cross-Cultural Solutions lives up to its name, with programs in Costa Rica, Brazil, Peru, Morocco, and Ghana.
The work: Work with underprivileged youth, teaching subjects like math and reading. Assist the disabled with everyday activities and promote health education in various communities. In Morocco, you spend days volunteering with local children and distributing food to the homeless. In Costa Rica, you'll be providing support for those with HIV/AIDS or working with children's schools.
The play: You get nights and the weekend to explore, and the program offers free cultural activities like cooking lessons. In Morocco, you learn to make Couscous or learn simple phrases in Arabic.
The catch: While the program offers excursion ideas – like visiting the Chefchaouen waterfalls in Morocco – the cost isn't included in your fee. There's also a non-refundable $350 deposit fee to reserve your spot.
The cost: $2,654, which covers lodging, meals, language lessons, and insurance. Plus, your trip is tax-deductible.
The comparison: Six nights in a hotel in Rabat, Morocco, costs an average of $612, according to Travelocity.
The deadline: Accepted on a rolling basis, but be sure to book far in advance as some weeks sell out quickly.