The federal government recently issued a COVID-19 scam alert, warning about seven scams targeting consumers during the pandemic. These scams prey on people's anxiety, as well as their desire to help others during this crisis.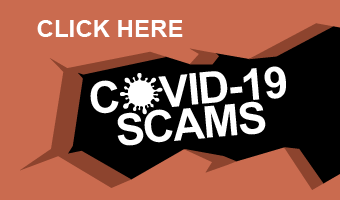 COVID-19 Scams 7 ways fraudsters may try to scam you during a pandemic #1 – COVID Products and Services • Promises of COVID cures or prevention • Fake testing sites • Fraudulent delivery or support services #2 – Government Imposters • Fake IRS agents with stimulus check updates • Social Security Administration imposters • Fraudulent CDC/WHO donations and updates • Small Business Administration fraudsters using Paycheck Protection Program #3 – Unemployment Insurance • Notification of benefits you didn't file for • Unsolicited calls/texts/emails for unemployment insurance • Unauthorized bank and credit transactions related to benefits #4 – Mortgage Fraud • Up-front fee loan modification or relief services • Instructions to sign over property title • Requests to stop paying lender & start paying someone else #5 – Charity Scams • Pressured solicitations for donations • Donation requests via wire transfers or gift cards • Fake charity groups on social media #6 – Crowdfunding • Individuals you don't know asking for donations • Stories of hardship that can't be verified #7 – Impersonators • People posing as friends or relatives in need of help • Requests for Social Security, Medicare, Medicaid numbers • Pleas for money in cash, gift cards, or money orders Avoid getting scammed 1. Always verify individuals, companies, and stories 2. Never give out financial information until you're sure an agent is legit 3. Avoid responding to unsolicited emails, texts, and calls 4. Be wary of upfront fees 5. Don't pay by wire transfer, gift card, or money order
Have a question about identity theft, fraud, or your credit? Ask our experts!