What consumers spent on the holiday in 2011 versus 2010.
It's official – we've gotten through another winter holiday shopping season. Unfortunately, not every family has managed to make it through the most expensive shopping season of the year with their finances intact. Here's a quick look at holiday spending from this year compared to last. If you're struggling to pay off holiday debt, call Consolidated Credit at (844) 276-1544 or complete an online application to request a free debt and budget analysis.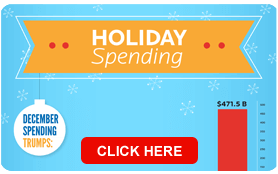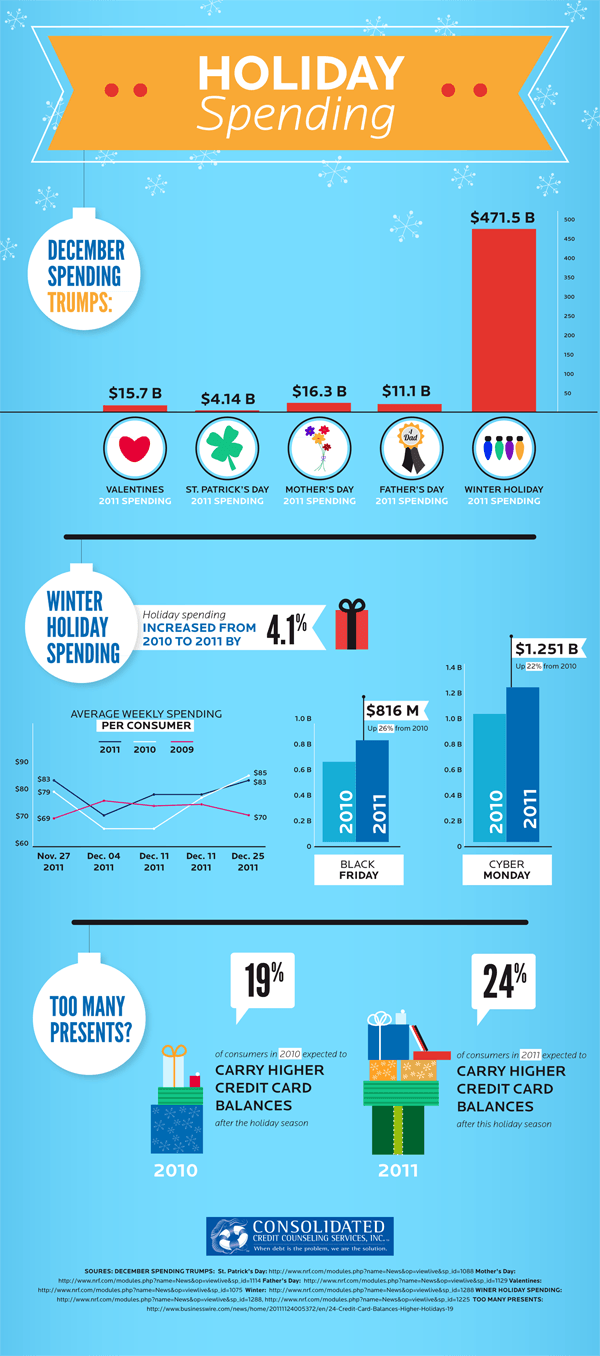 High balances have higher risk, too
According to the information shown on the infographic, about one in four families in the United States will carry higher credit card balances following the holiday season than they had going into it. That means those families are starting the New Year in a state where they're at a higher risk of facing financial distress.
The issue comes with how revolving debt payments are calculated. Revolving debts like credit cards don't have a fixed monthly payment. Instead, how much you owe in a given month is based on how much you owe, in total. When you have low balances, you have low minimum payment requirements – in most cases, around $15.
However, as your balances increase, so does the required amount you have to pay. What's more, after a certain point your balances get so high that once a high interest rate is applied, most of each payment you make just goes to paying off accrued interest. As a result, you're making big payments but making little progress in eliminating the debt.
Additionally, the longer it takes you to pay off holiday debt, the more your holiday shopping actually cost out of your budget. Instead of paying $100 for that purse for your daughter, you paid $100 plus all of the interest charges applied to that debt. Each month your holiday debt hangs around means it costs that much more to make the holiday season merry and bright.
So first you need to start by calculating how long it will take you to reduce the debt on your own. If you make cuts to your budget and tighten your belt so you can make larger monthly payments, how long will it take to pay off each debt? Remember if your debt is spread between multiple credit cards, you may need use a debt reduction strategy to eliminate the debt as efficiently as possible.
If you run the numbers and you won't be able to pay off everything you owe quickly, then you need to look for alternative options for debt relief. You may be able to consolidate or enroll in a debt management program, or you may need to take more aggressive action. In any case, talk to a credit counselor. They can evaluate your debt and budget impartially and then help you identify the best option for debt relief in your situation.