Deciding if a HELOC is good or bad depends on your financial situation.
Featured Video
When is it OK to take out a HELOC?
Consolidated Credit's FInanical Education Director April Lewis-Parks explains the five factors that can help a homeowner determine if getting a home equity line of credit is a good idea. Learn how to weigh the benefits and risks so you can protect your home and its equity.
[On-screen text] Ask the Expert: "When is it ok to take out a Home Equity Line of Credit?"
[On-screen text] April Lewis-Parks, Consolidated Credit Director of Education
April: Today our consumer question is: Is it ever okay to take out a Home Equity Line of Credit? And the answer really is: It depends. And it depends on a number of things:
What do you need the home equity line of credit for?
What's your credit score?
What is your interest rate going to be?
Is that so much better than what you would get on a personal loan?
And, what if something happens with the economy or your personal financial situation?
What you really need to think about is will you be able to afford the payments down the line? Is something happens, are you going to put your house at risk because you can't afford the payments?
So, before you explore this option, just be smart about it. Check the rates and the fees, and most importantly your own personal financial situation.
[On-screen text] Consolidated Credit: When debt is the problem, we are the solution. Call now: 1-800-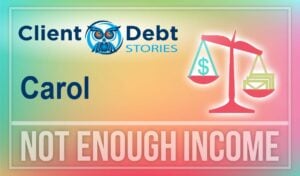 Carol tried twice to consolidate on her own, but DIY debt consolidation just made a bad situation worse. Learn what she did to get out of debt….
Read the Story
If you have credit card debt to pay off, we can help. Talk to a certified credit counselor to discuss your best options for relief.