10 tips to ensure a family feast doesn't feed your credit card balances.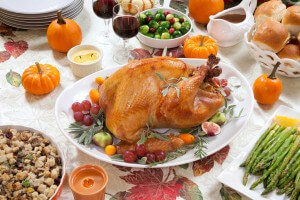 When you're working on a tight budget, effective meal planning and grocery shopping can go a long way towards helping you cut costs and avoid credit card debt for daily expenses like food. What's true for everyday meals for the family becomes even more important when you're talking about big meals for multiple guests like what you see around the holidays. If you don't have a solid plan, you wind up having enough food for an army and a few extra charges on your credit cards because you went over your food budget.
With that in mind, Consolidated Credit has collected these helpful tips on how to plan and execute a big holiday meal on a budget. Using these tips can help you avoid debt, particularly during the holiday shopping season when cash is already strapped.
Tip No. 1: Divide and conquer
Taking on the burden of cooking the entire meal for a big event yourself is both expensive and stressful. If you don't like the idea of going completely potluck, you can at least ask attendees to contribute one dish or something specific that you know they execute well and easily. So if Aunt Bernice makes the best pumpkin pie, leave dessert to her.
Appetizers, desserts, and side dishes tend to be the easiest to delegate. That leaves the more expensive proteins to you.
Tip No. 2: Limit options
Meal planners often go for buffets and/or multiple options for each course because they want to please everyone. So you end up cooking peas because they're the only vegetable your son will eat, but also green beans for your daughter and then asparagus for the adults. It's too much, so you end up overspending and having some serious food waste when you toss the leftovers. It's even worse when you have multiple main dishes and/or proteins.
Although buffet-style gives your guests variety, it's just not good for your budget. A sit-down multi-course dinner is usually more cost effective. Unless someone cannot eat what you make for a health reason or major lifestyle choice, then you shouldn't go out of your way to cook everyone's individual favorites.
A note on special dietary needs: Ideally if you have a vegan or a gluten-free guest, you want to plan the whole meal to easily accommodate them. So, you make one really great gluten-free dessert that everyone will eat or serve steamed green beans to your vegan while the rest of the family eats the dairy-laden green bean casserole.
Tip No. 3: Specialty foods are ALWAYS more expensive
Organic fruits and vegetables are far more expensive than their regular counterparts… always. Why? The cost of growing organic produce is higher than regular produce because the grower has to use specialty all-natural pesticides and fertilizers. So that increased cost to grow means a higher price tag for you on the meal. Buying organic produce to feed your family everyday meals is definitely costly, but when you're talking about enough produce to cover a meal for 8-10 or more guests can be astronomical.
You should also be aware that gluten-free cooking is costly as well. Even if you bake bread and make dishes from scratch, the flours themselves that you have to use to replace gluten-rich flours are more expensive. It takes a combination of specialty flours like tapioca and rice flour to substitute for a basic white or wheat flour if you want consistent results.
Tip No. 4: Portions count
A big mistake people often make with big meals is overestimating portion size. So you buy a turkey or ham big enough to feed 15 people when you only have 8 coming to dinner. For instance, if you look at the amount of turkey purchased every Thanksgiving versus the total population of the U.S. it ends up that Americans buy about 3 pounds of turkey per person. Who eats that much?
At most, you need a pound per adult and even that is pushing the limits of what most normal guests will eat. Consider your guests' appetites, count up the ounces you need and only buy enough protein to cover that amount.
Beverages tend to have the same issue, particularly for beer and wine. Only plan for your guests to drink about 2 glasses each and buy enough to cover that. If people want to drink more, make the event BYOB.
Tip No. 5: Go generic
This is particularly true for any ingredient that's getting mixed into a dish – especially casseroles. It involves everything from buying premium chicken stock instead of using cheap bouillon cubes or specialty shredded cheese instead of getting a generic block and shredding it yourself.
The more ingredients going into a dish, the less likely it is that your guests are going to taste the difference between an expensive specialty brand versus a generic in-store option. That being said, limited numbers of ingredients mean quality may become a bigger issue. So if you're doing Caprese and cut cost with low-quality mozzarella, your guest may be able to tell.
Still, anything being used in a casserole, mixed desserts like cakes, or ingredients for sauces or marinades may be acceptable to go with a cheaper version. You can always use your seasonings to boost the taste if you find the dish lacking.
Tip No. 6: Disposables are easier, but add cost
Some people opt for paper plates and plastic silverware and cups because it makes the cleanup after the meal so much easier. However, it also adds to your cost – particularly because you usually have to buy more expensive brands of disposables to get good enough quality to be usable for a big meal.
Use your flatware and silverware. If you're too exhausted to clean after, enlist help to clean up. Even guests may be willing to pitch in to get it done quickly.
Tip No. 7: Coordinate to avoid waste
You don't want every dish to taste the same because it uses the same ingredients, but you can often find ways to coordinate ingredients and seasonings so you use items you purchase more than once.
So instead of using thyme on the meat and rosemary on the mashed potatoes, find a main dish recipe that uses rosemary, too. That way you're not buying a whole package and only using a few pieces while the rest goes bad.
The same thing can be done with fruits for desserts and mixed drinks. Make parfaits for dessert and then use the rest of the fruit for a pitcher of sangria.
Tip No. 8: Always shop with a list
It may seem silly, but a list ensures you stay on track when shopping and on budget. You avoid making purchases on impulse or buying more of something you already have. Go through all of the recipes you plan on using and write everything you need down, making sure to note things like number of onions needed and how many cups of flour you'll need in total for everything you're cooking that uses flour.
Then take the list and compare to what you already have. If you bought fried onions for a casserole for Easter dinner, then they may still be good at Thanksgiving. There's nothing worse than buying more of something you already have. Once you have that list, take it with you when you go shopping. Mark things off (or delete them if the list is on your smart phone) to make sure you don't double up. Also, avoid shopping when you're hungry, since you can be enticed into impulse purchases.
Tip No. 9: Go local
Specialty national supermarket chains are usually the most expensive – grocers like Whole Foods or Central Market can get particularly really pricey. Mainstream national chains like Tom Thumb or Winn Dixie are usually better for shopping on a budget.
Even better – buy local. If you have local grocers or even farmers markets, it can be a great place to pick up locally sustainable ingredients that fit your budget and give you the fresh taste you're looking for. Hit up a few local stands to get the produce you need and support local growers, too.
Tip No. 10: Don't buy food for the next day
One of the biggest mistakes meal planners make during the holidays is planning big meals one right after another. So you cook a big dinner for Christmas Eve, a big brunch on Christmas morning, and then another big dinner that night. Even if you have family or friends staying with you, this is usually too many big meals in a row – your guests will end up overstuffed and picking at things by the last big meal.
Come up with creative ways to use the leftovers you know you're going to have at the end of a big meal so you don't go out and buy another big round of food when your family and house guests can be satisfied with what you have left over.