Debt-Free Holiday Budget Guide
How to make a holiday budget that helps you avoid a credit card debt hangover.
The winter holidays are the busiest shopping season of the year. Retailers generate 20% of their sales during Thanksgiving weekend alone. So, while the holidays are a time for joy and love, they can also be a prime time for debt. To avoid a holiday debt hangover, you must plan carefully and build a holiday budget that keeps you on track. Luckily, you're in the right place!
Making a plan to survive the holidays without debt
A Penny Wise, Pound Foolish guide to surviving the holidays.
Penny Wise knows the best time of year can also be the worst for you budget. You have to plan carefully to avoid holiday debt. Only the Pound Foolish think it's pointless to plan.
Follow these 7 tips to survive the holidays with less stress and debt.
First, make a budget and stick to it. Pound Foolish shops without a budget and ends up spending way too much. But Penny Wise budgets for everything from gifts to family meals. And once the budget is set, don't deviate.
Penny Wise also knows you shouldn't buy gifts for everyone. Pound Foolish buys individual gifts for everyone and way too many gifts for family members. Coaches, teachers, neighbors, bosses, coworkers… it never ends.
Penny Wise makes a list of everyone they need to buy for and then prioritizes it. They set spending limits for family gifts and do things like gift swaps for adults. Then they make what they can for everyone else.
Penny Wise also gets the whole family involved, making gift baskets or baked goods. Or they grow potted plants and let the little ones decorate the pots. Just don't be Pound Foolish and start too late or you won't have time for mistakes. And Penny Wise makes sure to have extras on hand for last minute gifts.
Penny Wise also likes to play Secret Santa. So they shovel snow or rake leaves for a neighbor without them knowing and they do family member's chores when they're out of the house. They can also leave gifts on doorsteps. Because only Pound Foolish thinks the value of a gift is measured by the price tag.
Penny Wise also creates personal gift certificates, offering good deeds that celebrate the spirit of the season. You can offer freebies like car washes or babysitting services, or coupons for fun outings that can be redeemed later. So while Pound Foolish is still paying off the debt from last holiday season, Penny Wise is cashing in and enjoying more great times with the family.
You should also focus on experiences. While Pound Foolish is stressing out on a mad-dash shopping binge, Penny Wise is making new traditions with the family, like skating trips and bonfires, and volunteering together to help those in need.
Finally, Penny Wise never forgets what's really important. Pound Foolish gets pulled in by ads that say you need diamonds and cars to express your love. While Penny Wise creates a blessing jar that the family fills with things they are thankful for. Then together they read the notes and celebrate the joys of the past year.
So remember the spirit of the season and celebrate this year without debt. And if you overspend, Consolidated Credit will be here to help soften the landing.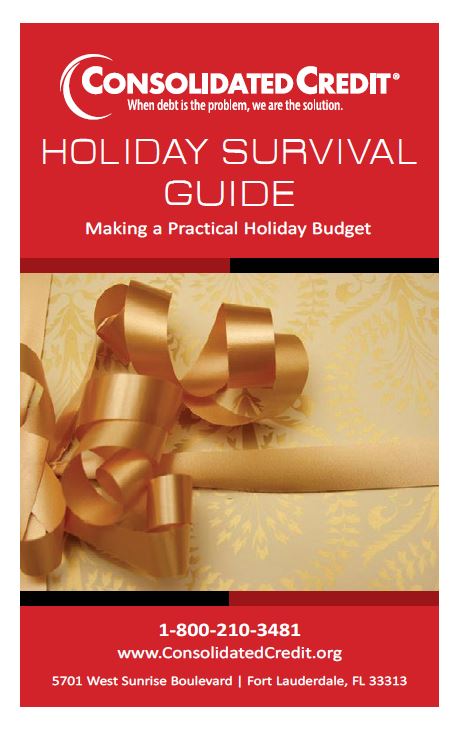 No matter how much people love the holidays or how well they've planned, many people find themselves frazzled at some point. This publication helps you develop a practical spending plan to cover all your expenses, from gifts and decorations to travel and entertaining. Learn how to enjoy the holidays without taking on debt.
How to build a holiday budget
Write down everyone you plan on gifting this year.
Decide what you want to buy for each person, then comparison shop to determine the price of those items.
Add in all your other holiday expenses, including: decorations, travel costs, postage and shipping, food and entertaining.
Total it up to see how much money you need to cover the purchases.
Compare this to the free cash flow / savings you have available to spend this year.
Cut back as needed to keep your expenses in line with your available funds.
Use our free spending planner to set a holiday budget that won't lead to debt!
We also offer a free holiday spending checklist that can help you make sure that you capture all the expenses you need for the holidays.
When is the right time to start shopping for Christmas?
The earlier you begin shopping for the holidays, the less likely you are to rely on credit cards. More time means more paychecks to absorb the cost. This is why we're fans of starting as early as possible because it helps you avoid debt. In fact, shopping year-round can be a good strategy, so you can buy items as they go on sale.
Here is a quick look at when most people shop for the holidays: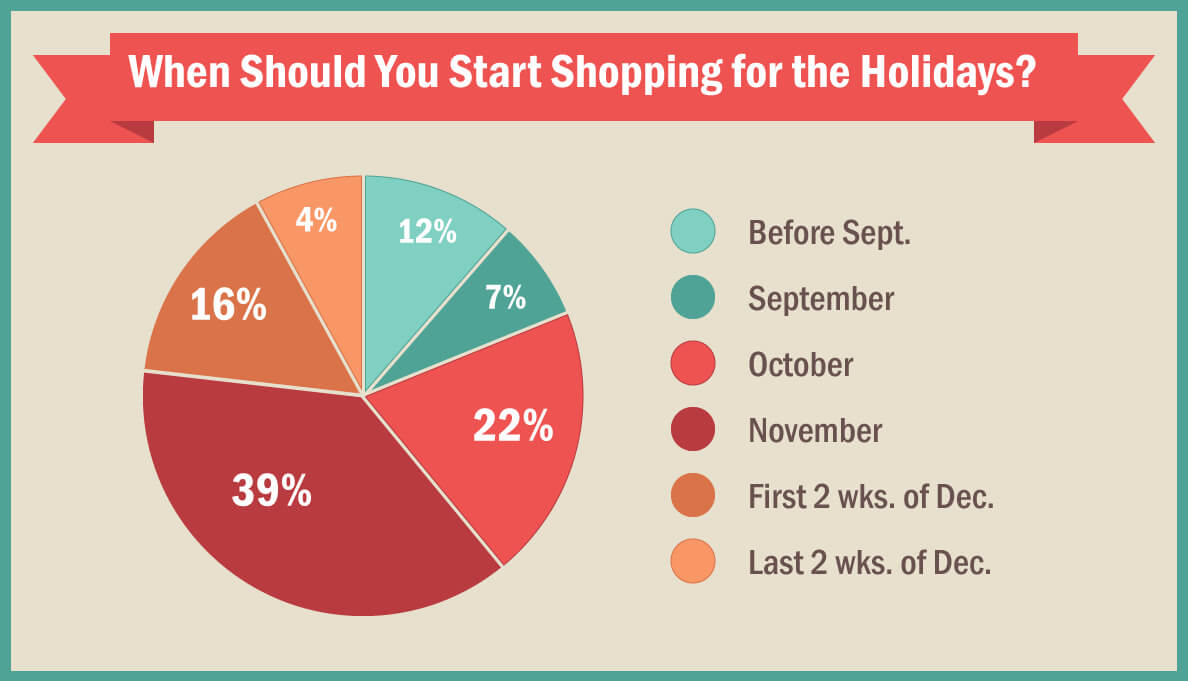 Featured Video:
Holiday Shopping Tips
Learn how to shop smart for the holiday season so you can stay on budget and avoid high interest rate credit cards.
Be Penny Wise, not Pound Foolish about holiday shopping.
Penny Wise shoppers plan ahead so they can enjoy the holidays, while Pound Foolish shoppers overspend and overstress. Because they fail to budget, costs go up and debt grows before the end of the year. They shop with friends, which increases the chances of impulse buys and shop tired or hungry, which leads to rash purchasing decisions.
Penny Wise makes a list before heading out to shop. And they take time to look for sales and comparison shop to get the best prices.
And while both Penny Wise and Pound Foolish may be out early on Thanksgiving and Black Friday, Penny Wise only hits the stores when it really counts to maximize shopping. Meanwhile Pound Foolish is out fighting over fad gifts that won't stand the test of time. Penny Wise buys gifts that are meant to last, like clothes, appliances and electronics you need for school or work, and even practical gifts like tires.
Only Pound Foolish shoppers start shopping at the end of November or into December. Penny Wise shops year-round, buying one big item per month to spread out the cost. And they buy universal gifts like digital picture frames whenever they go on sale. This way they have inexpensive last-minute holiday gifts to give out as needed.
The Pound Foolish just buy, buy, buy and don't even bother to track their receipts. Penny Wise uses receipts to track spending, in case retailers offer a cost difference after the holidays. They also ask for gift receipts to include with gifts for easy returns.
When the Penny Wise shop online, they only shop secure sites to avoid identity theft, because you'd have to be Pound Foolish to add to your holiday stress with credit fraud.
Penny Wise also knows how to save big on holiday meals. They plan meals carefully based on the number of attendees and how much everyone can eat. They also buy nonperishables in bulk because they can save up to 20 percent. Pound Foolish makes enough food to feed an army instead of a dinner party. And they don't use leftovers, so much of what they cook gets tossed in the trash.
Finally, Pound Foolish puts everything on credit because it's easy and they might earn rewards. But Penny Wise uses cash and debit when possible and they plan ahead to pay off high interest rate credit card debt in the first billing cycle. Purchases that take more than one billing cycle to pay off go on a card with a low APR. So when Penny Wise uses credit cards, they use two AT MOST for holiday purchases, while Pound Foolish ends up with a holiday debt hangover.
Be Penny Wise and shop smart this holiday season. And if you start to feel any stress over holiday debt, call Consolidated Credit for help.
4 Ways to Avoid Holiday Overspending
#1: Set up a Black Friday shopping strategy
Black Friday can be the best day of the year to score deals on specific types of items. But don't be fooled into thinking you can buy just anything at a huge discount! Getting the best deals on Black Friday takes planning.
#2: Shop securely on Cyber Monday
In 2017, Cyber Monday overtook Black Friday as the biggest shopping day of the year. If you like to shop online, this is the day for you. But retailers are savvy at getting online shoppers to spend more. You still need a smart shopping strategy in order to save money and avoid debt.
Even with a solid holiday spending plan, you may find yourself going overboard. That usually means pulling out the plastic to charge those extra purchases. The following tips can help you stay on budget so you don't end the holiday season with more debt than you intended!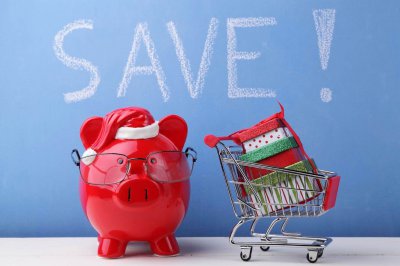 Tip No. 1: Reduce your regular budget expenses
Cut back regular costs in your household budget to increase the cash flow you have available for holiday spending. Take your lunch to work, cook at home instead of dining out, and don't buy clothes or home goods (put then on your list). You can also plan ahead to avoid expenses like car maintenance or vet visits for your pets around the holidays.
Tip No. 2: Always shop with your list
Once you complete your holiday budget, take the shopping list with you wherever you go. Save it on your smartphone so it's always with you. And make sure you have it even if you shop online or through an app. Retailers are very good at putting online ads in front of you to get you to spend more. Stick to your list and avoid impulse purchases.
Tip No. 3: Put your credit cards on freeze… literally
We're not kidding! Take your credit cards out of your wallet and find a big glass or jug you can fit them in. Then fill it with water and stick it in the freezer. With your credit cards stuck in ice, you won't be able to use them to overspend. At the very least, you'd have to wait until the ice melts to get to them. That gives you time to reconsider using them, which can help keep you on track.
Tip No. 4: Take one name off your gift list
Buying individual, personalized presents for everyone that you know is expensive. If you have more than 10 names on your gift list, it's probably time to cut back. Review everyone you're gifting and take one name off the list. If you really can't find anyone to cut, then it's time to consider bulk gift options or handmade gifts.
Tip No. 5: Make travel arrangements early and bundle
Early reservations reduce the cost of airfare and accommodations. Bundling flights, hotels and car rentals usually gives you an even better deal. Start comparison shopping for your flights early and use Consolidated Credit's Tips for Cutting Air Travel Costs to get the best price possible.
Tip No. 6: Find a teen for pet sitting and house sitting
Instead of paying two different professional services to take care of your house and pets while you're gone, find a responsible teenager in your neighbourhood who wants to earn some extra cash. Show them everything they need to take care of while you're gone – house care, watering plants, feeding and walking pets. Paying a teen will cost less than professional services and let you group everything together.
Tip No. 7: Rearrange and swap out decorations
If you love to decorate for the holidays, you know costs can get out of control quickly. Instead of buying new stuff this year, rearrange everything that you have already. You can also set up a decoration swap party with friends or family that don't live in your neighbourhood. Each person brings items they're willing to trade. Then you swap stuff out and everyone gets to have "new" decorations. Just make sure to agree, in advance, how you want to cover costs for damaged or broken items – accidents happen.
Tip No. 8: Ask guests to chip in
This applies to meals, parties and extended family visits. For meals and parties, ask your guests to either bring a dish or bring the hard liquor they wish to drink; you provide mixers and nonalcoholic beverages. Additionally, if your house looks more like a hotel during the holidays, as your guest to chip in a few bucks to cover costs for their stay. A little bit can help with your budget and it's still much cheaper than them booking a hotel.
Tip No. 9: Make a new tradition
Instead of spending all your energy focusing on the stuff you need to buy, focus on creating a new family tradition. Set up a family holiday movie night, plan a bonfire, pack everyone into the car to take a Christmas light tour, or volunteer as a family to help a charity, such as Toys for Tots. Planning an inexpensive new tradition will help you make memories instead of amassing debt.
Tip No. 10: Don't ignore your balances until the New Year
If you end up charging anything for the holidays – whether it's on purpose to earn rewards or because you ended up overspending – don't decide to ignore your balances until the New Year. Once people start running up balances at the holidays, the instinct is to ignore the debt until the holidays are over. You end up making a conscious decision to charge whatever you need and worry about the debt next year. But that's a recipe for a bad start to your New Year.
Instead of ignoring your balances, keep track of them and make sure they stay manageable. If you see that the total is getting too high for you to repay on your own, don't wait to get help.
| | |
| --- | --- |
| If holiday overspending leads to credit card debt, talk to a certified credit counselor to find a solution today. | Get Help Now |
One last thing when shopping for the holidays…
Being the year's busiest shopping season also means that the holidays put you at higher risk of identity theft. As you shop for the holidays – both in-store and online – take steps to protect against ID theft and credit fraud.