Claudia Steele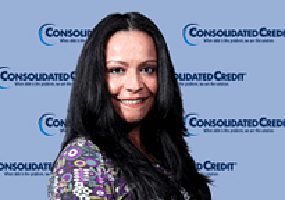 Claudia Steele has a note in her desk from a fortune cookie that reads, "Doing what you like is freedom, liking what you do is happiness." She says this adage defines her. But even before Claudia became a certified credit counselor, she was a financial adviser to her friends and family. She helped her ex-husband get out of $15,000 in credit card debt and helped a good friend realize that she was drowning in credit card debt. As a seven year certified credit counselor with Consolidated Credit, Claudia is now doing what she was born to do.
How do you separate your personal life from your work life?
It's so weird because when I go home and start to take care of things I forget about it. But when I go to sleep I start thinking about all my clients. Sometimes in my dreams I'm doing applications and asking, "Ok but how much are you spending on this? Why are you spending so much on this?" It's so weird.