Meet Consolidated Credit's Certified Credit Experts
When you work with Consolidated Credit, you get the experience of one of the nation's largest nonprofit credit counseling agencies on your side.
At Consolidated Credit, we're here to be advocates for every consumer we counsel. Both our credit counselors and executive staff are all nationally certified to provide consumer credit counseling and financial education. We strive to be advocates for our clients and help every person that we connect with to find the financial assistance and solutions they need.
This page will introduce you to the team that's here to help you get out of debt. Working with a team of certified credit experts gives you the knowledge, negotiating power and professional expertise you need to find the right solution to eliminate your debt.
Introducing Consolidated Credit's Leadership Team
Consolidated Credit's executive staff spearheads our efforts to improve the financial lives of individuals and families throughout the United States by providing certified credit counseling and freely accessible financial education. Our mission is to help everyday Americans achieve financial stability that can often seem out of reach given today's job market and economy. We believe with the right strategy, any household can achieve a balanced budget that promotes saving while avoiding challenges with debt.
The executive staff members shown below lead our credit counselors and support their efforts with community outreach programs and corporate financial wellness initiatives. Whether they're in the office or out in the community, these certified credit experts in their fields are a vital part of our ability to provide quality financial education and debt relief services to the community.
Click on the linked names to read more about their experience. For general information and help with debt, please call 1-888-294-3130 or email us at [email protected].
---
---
---
---
---
---
---
---
Learn what our certified credit counselors do and how they can help you.
One of the great things about working with a credit counselor is the personal interaction you have with a certified financial professional. You can get answers to all your financial questions and learn about the best debt relief options for your unique financial situation.
At Consolidated Credit, we understand making the decision to get professional help with debt can be hard, so we want to make it as easy as possible for you. Showing you our "human side" can only help you feel more comfortable that you'll be working with real people who really understand what you're going through.
Meet the certified credit counselors of Consolidated Credit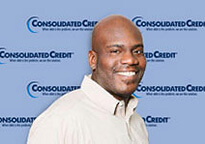 Ludole knows how the credit game works
From working as a customer service rep for a credit card company to becoming a certified credit counselor, Ludole knows every side of this business. Armed with that knowledge, he helps clients understand how to win when it comes to the credit game and how to avoid the problems most people wind up facing.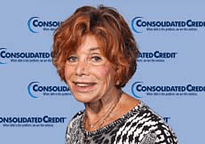 Sheila Dreams about Credit
Ever been so involved in a project at work that you go home and dream about it? For Sheila West that means visions of MasterCard and Visa dancing in her head. After 21 years, working as a certified credit counselor has become a passion – not just a job.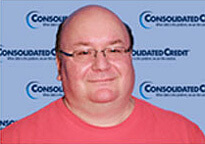 Credit Counselor Bob Fosters You Through
Before becoming a certified credit counselor, Bob Cornick served as foster parent to five boys. He says it was a natural jump to becoming a credit counselor, since this job still allows him to help people who really need the life-changing help we can offer.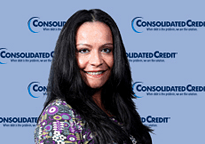 Counselor Claudia S. Helps Clients Overcome
Claudia lives by the adage, "Doing what you like is freedom, liking what you do is happiness." That's how she's gone from advising friends and family on how to overcome financial challenges, to being a certified credit counselor here at Consolidated Credit.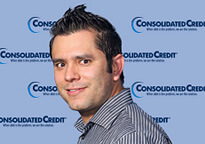 Erick Knows What It's Like to Face Challenges with Debt
Think you're the only one who struggles with debt? You're not alone, even certified credit counselors like Erick R. have struggled with debt in their lives. Hear how Erick overcame his own challenges and how he applies that same knowledge to helping others in need.g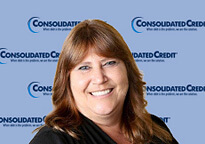 Kimberly Knows Debt Can Happen to Anyone
Particularly when we face a tough economy like this one, anyone can fall into debt from circumstances beyond their control. Whether it's because of divorce, loss of income, or even giving too much to help others in need, Kimberly B. can attest that debt happens. She helps people get their lives back.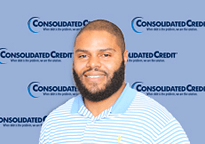 Jamel Helps Clients Trim the Financial Fat
As a certified credit counselor, Jamel never gets tired of seeing a client feel good when they've finally gotten control of debt and gotten back on the right financial path. That's why he counsels clients to trim the fat and focus on financial health instead of keeping up with the Joneses.