Student Loans and Your Credit
How student loan repayment can make or break your credit score.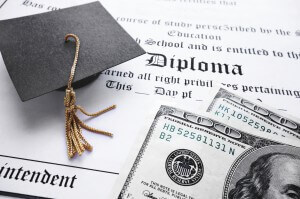 Federal student loans –whether they're subsidized or unsubsidized –do not require a good credit score when you take them out. Since these loans are usually taken out by young students, you don't even need a credit history to qualify for the money you need.
You don't need a credit score to apply for student loans, but that doesn't mean that student loans have no relation to your credit. How you pay your loans back has a very big impact on your credit score. They can help you build or hold you back.
How student loans help your credit score
You don't have to be just out of high school to take a federal student loan…but most of the people who apply for them are in that exact situation. With that in mind, it's not surprising the federal government decided that you should be able to take out these loans regardless of your credit score.
So there's a good chance that you don't have a really vast credit history when you take out these loans. By that token, paying your student loans off provides you a with a means to build credit –as long as you have the means to pay them back according to schedule.
If you can't, then your credit score can actually suffer, because instead of building a good credit history, your loans are building a bad one. Lenders and creditors won't trust that you can pay back your debts. You either won't get approved for loans and lines of credit or you'll face really high interest rates and harsh terms.