Financial Counseling for Couples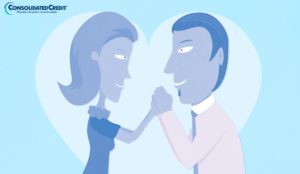 When you're facing financial problems as a couple, you can come together or allow it to drive you apart. If you can work through the issues you face together, you'll come out the other side a stronger, better couple. And that's what going through credit counseling together can help you do –it can bring you together as you work through the challenges you face.
The information below can help you understand how credit counseling works if there are two of you facing problems with debt together. If you're facing problems with debt and need help finding a path you can walk together to achieve freedom, we can help. Call Consolidated Credit today at (844) 276-1544 to request a free, confidential debt evaluation with a certified credit counselor.