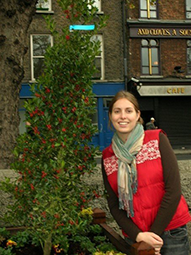 Getting through college is expensive—even apart from the hefty student loan debt that most students must take on to graduate. Many students are forced to rely on credit cards to cover daily expenses as they get through college. As a result, they graduate with credit card debt on top of student loan debt.
That's the situation that Amber got into in her last year of college. She'd always lived frugally, but as a senior at Southern Oregon University, she was offered the opportunity of a lifetime. She had the chance to study for a year abroad in England at Winchester University. She jumped at the chance to study at the institution opened 1840 and use the opportunity to travel.
"I was so excited about this trip. My dad paid for the airfare as a graduation present, but the rest—tuition, room and board, most of the food and other expenses were covered by me."
The money from Amber's student loan didn't even last half a semester…
Amber knew that her cost of living was going to increase while she lived abroad. So, she took out an extra student loan to cover all those costs that she needed to cover.
"I took out a student loan for around $10,000. I made it about halfway through the semester before I had to start using my credit cards to cover my day-to-day living. The problem was, the dollar was only worth about half a pound. That really hurt."
Exchange rates can be a big trap if you're not accustomed to checking them. In many cases, your U.S. dollars will be worth more in the country where you study abroad. But in some cases, they can have less value. You also may have trouble assessing your living expenses until you get where you will live.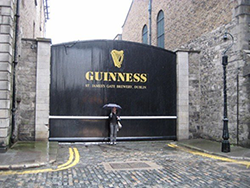 Amber knew that she would end up with massive debt by the end of her study abroad year. But she stuck it out and even fulfilled her desire to travel beyond England. As a history major, she decided to tour Europe to experience and witness the rich history that she studied in the United States.
"I traveled to Ireland and Scotland. I fell in love with Edinburgh. I even visited the Palace of Versailles in France. My family also visited with me while I was there. It was an incredible time."
Once Amber landed back in the states, she decided to move from Oregon back to her hometown of Olympia, Washington.
Amber's debt was not a warm welcome…
Once she was back home and settled, Amber knew it was time to get a handle on her finances. Unfortunately, her debt was even higher than she expected and she couldn't hit the ground running until she found a job.
"I was saddled with about $60,000 in student loan debt, including the loan I took out for the trip to Europe. And the move back to Olympia cost me almost all of my savings. When I got back home to be near my family, I couldn't find a job right away, so I started living on my credit cards."
Amber had three credit cards that she used to get by. When she eventually found a job after a few months, she was able to start paying stuff off. But things started to snowball on her.
A big problem that people have with credit cards when their balances are high is how much money they spend just on interest charges. At 30% APR, more than two-thirds of every payment Amber made went to cover interest charges. As a result, her balances were barely decreasing. It was almost impossible to make any headway.
Amber borrowed money, but still kept charging…
To get ahead of her credit card debt, Amber turned to her family for help. She asked her dad for money so she could pay off her credit card balances and get back on track.
"I took the money my father loaned me and paid off debt, but then started charging on the cards again for my day-to-day expenses. I couldn't pay my father back, and I couldn't pay back the credit card debt, because by that time the interest was eating up all my money, and I was paying $400 in student loan payments each month."
Amber back to having over $7,000 in credit card debt and she was fed up. She discussed her situation with a friend who told her about Consolidated Credit.
"My friend was previously in debt, and she used Consolidated Credit to get out. She was happy with her experience with Consolidated so I decided enough is enough and I called them."
Amber was happy to have an advocate…
Amber called and got a free debt and budget evaluation from a certified credit counselor. The counselor helped Amber set up a realistic budget that would cover all her daily expenses without relying on credit cards. Then they started talking about options that would help her pay off her credit card debt.
Together, they decided that setting up a debt management program through Consolidated Credit was the best course of action. The program would consolidate her bills into one affordable monthly payment. Then Consolidated Credit's team would work with creditors to reduce her interest rates so it would be easier to repay what she owed.
What's more, since the credit cards she included in the program were frozen when she enrolled, it helped Amber break her credit dependence. She learned how to live without credit cards for the first time since she got out on her own.
Amber is looking forward to the future…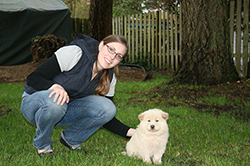 Now, Amber has a steady job, a home, a dog, and a financial strategy to support it all. She's paid her father back and is in the progress of paying off her student loans. She says now that she doesn't have credit card bills draining her income, it's been much easier to set up an effective student loan repayment plan.
"I want to forget about that debt and just move on managing my money in a more responsible manner. "I have a job working as an administrator in the field of manufacturing, but I also do some marketing and other things. I'm very happy now thanks to Consolidated Credit."
Amber can forget about her debt, but she'll always remember the great time she had in Europe.
Are you in debt because of daily expenses?
You don't need to travel to wind up with debt caused by daily expenses. If you've gotten into debt just by managing your money day-to-day, we can help. Call Consolidated Credit today at (844) 276-1544 for a free debt and budget evaluation from a certified credit counselor. Together, you can develop the best plan to pay off your debt.
If daily expenses have driven up your credit card balances, we can help.