Charles W. Keys III, MBA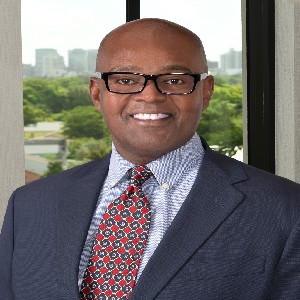 When people think about Charles W. Keys III, a dynamic, results-oriented leader is what comes to mind. Charles has more than 25+ years of experience in finance, most recently becoming the Corporate Social Responsibility/CRA Officer at Valley Bank. Through his position, Charles aims to make a positive impact on society by promoting equality, diversity, and inclusion in the workplace.
The start of his career in finance
Charles' passion for finance began in high school where a chance circumstance would go on to pique his curiosity.
"I grew up in Delray beach and in my high school days, they started bussing us to nearby Boca Raton. A lot of the kids I hung out with, their parents were in finance, and so I kind of got the bug that I wanted to be a banker."
Charles received his Master of Business Administration and Finance from the University of Phoenix in 2004. He attended the Scott College of Business at Indiana State University to obtain his B.S. in Finance, becoming the first generation of his family to go to college.
"My true passion for finance came from being able to help folks. When I first started, we were helping people process mortgages and it was very rewarding to take your expertise and lend it to other individuals. Helping them achieve their dreams of homeownership, going off to college, essentially financing dreams. So, I think that's where I got the real joy of it, in banking we really get a chance to help people through major milestones."
Giving back to the community
Not just satisfied spreading his knowledge at work, Charles is an active volunteer. He is a board member at Community Classroom Project, a nonprofit started by a friend of his from high school. Its mission is to reduce school-related stress in classrooms and help families bridge the gap between students, parents, educators, schools, and the community.
He is also on the board of directors at Palm Beach County Black Business Investment Corporation and is the Board Chair of Community Reinvestment Group L.C.
"What keeps me going is going in and being able to help some of these smaller businesses that are just starting and getting them access to capital to pursue their dreams. It's that joy of seeing something going from infancy to success, and I've been blessed enough to have the time and the ability to volunteer so I can add something back to society."
Helping people achieve their American Dream
"I had one client that started from my volunteer work at habitat for humanity where I was a mentor for potential homeowners. Sitting down with them and helping them design a budget, create a game plan, and get out of the renting situation that his family found themselves in. We were working with each other for about a year and after a lot of determination they were able to get into a home."
It is through that personal connection that Charles finds the most joy. Working with clients to take that next big step in their life. Sometimes, lifelong friends are made along the way.
"After all this time I'm still close friends with that family. So, I think that's one of the most memorable ones because it was really cool to see this single mom with multiple kids, just her drive and passion to do better for her family and get them in a home."
Family is his driving force
Charles' most memorable achievement though is having his three daughters.
"I have three daughters so they're my biggest achievement. They're what motivates me to get up every day and to be an upstanding citizen, be a role model, to encourage them to be great women, and to break all barriers. That would personally be mine, family is everything to me, taking care of my three girls."