Michele Edwards-Collie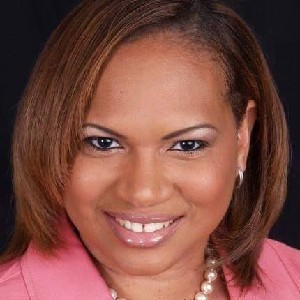 Michele Edwards-Collie has over 30 years of banking experience. Michele specializes in providing down payment assistance and homebuyer education for first-time homebuyers in the South Florida community.
Coincidental Beginning
Homebuying is a field she came to by coincidence while attending Florida State University. At the time, she was studying Communications with aspirations of becoming a television journalist. After beginning an internship in college, she quickly realized it wasn't the field for her. In her senior year, she decided to pivot. A good friend mentioned to her that a bank opening on-campus was looking for somebody with a communications degree, she decided to apply.
"I had an interview, and I was offered a few different positions, and I ended up choosing to start with Nations Bank. They had a management training program that I was very interested in, so I went through the program, and I eventually became a branch manager."
Michele would eventually transition to the mortgage department, before leaving for Countrywide Home Loans as a sales manager. Her experience there would lead her to open her own mortgage company, though she would come back to the bank to specialize in first-time homebuyer programs.
"This is what led me to the position I have now because I started focusing on the community development side of banking, which is, what is the bank doing to help the communities that we serve? So, in turn, I started learning more about the different regulations that the government has in place for banks to meet certain needs of the community."
Present-Day Perfections
It was a choice that would eventually lead her to become Senior Vice President and Director of CRA Community Development for City National Bank of Florida.
"Eleven years ago, I started working strictly with first-time homebuyers. It led me on this path, and I'm so grateful I made that decision."
It was the opportunity to help people and make an impact on their lives that grounded Collie and made her enthusiastic to get to work each day. She finds herself in a position that she never truly believed she'd be in, but her communications education has turned out to be a blessing in disguise.
"I have the opportunity to help so many people, especially those that would not be able to buy a house without the help of someone like me. We work with many low-income families, but they won't qualify under traditional mortgage programs. My goal is to see how the bank can create programs that make homeownership affordable and within reach for everyone. At the end of the day, it's not about numbers, it's about communicating with people, seeing what their needs are, and then fitting all the pieces of the puzzle together."
Husband or House
Drama and persistence led one client into their home and Michele on a journey she'll never forget.

"My client wanted to buy a house, but her husband did not want to buy one at all. She was focused on getting her and her son into a home after renting for so long. But her credit was bad, and she was a low-income earner, so her husband had to be on the paperwork."
Due to her bad credit and preference for switching jobs, she wouldn't qualify for a mortgage on her own. Something that would spell the beginning of the end for a relationship but opening of a door on a home.
"She's like, 'He doesn't even want to buy a house, his credit is bad, and I don't want to go through with all of this myself and then he just gets to reap the benefits.' So, I said, 'Well, you know, this is just how it works.' She looked at me and she said, 'No, you know what I think it is? We are on two different levels and so I want to get divorced.'"
Although she certainly had no desire to drive a wedge between a married couple, the information Michele presented had shown light on the issues in her client's marriage. It made the woman realize that she wanted a different life for her son. After waiting for her to get divorced, the next step was locking down her job stability.
"While we waited for her to finalize her divorce, she was still moving from job to job. One of the things that we look at to approve a mortgage loan is job stability. So, I said, listen, you've got to find a job you can stay at for a while. Stay on six months and then when we start the process it'll have been about a year and start saving up your money."
Though they kept in communication, it would take two and a half years from their initial planning for the woman to be truly ready to buy. With rebuilt credit and the proper money saved, she finally started shopping for a home. But it would be a task easier said than done.
"She calls me one day and she's like, 'Miss Michele after I did all of this there are no houses out there.' It was a Sunday, and I'll never forget it because she's the kind of person to call, get voicemail, and immediately calls back. So, I answered finally, and she was just like, 'I went out looking with my realtor and there is nothing out there, I did all this for nothing.'"
It would be Michele who would have to reassure her client that everything she had done was for a reason. And encouraged her that whatever God has for you, is for you and to be patient, the right house will come along.
"I told her, "You didn't just do all this to quit here, to keep renting.' About two weeks later she went under contract. After she found the house, she called me all excited. She's like, "I can't believe I was going to give up.' I said, "Great, but there's more work to do. You need to get an appraisal, and inspections, you have to go through this process.' Along the way she got discouraged, and I had to keep her motivated, but the day she surprised her son with their new home, was a day I'll never forget."
It's a story that still inspires Michele
Her mantra is to always help people because not everyone has someone.
"I just had a moment thinking about that story because you are changing lives. I am changing lives, the work that we do, changes lives. And you know, sometimes they don't have anybody else. And when I think about that now, at the end of the day, who is going to help them with the right spirit and really encourage them."
Collie is active with various community service organizations including the Broward Housing Task Force, Miami Dade Economic Advocacy Trust (MDEAT) Housing Advocacy Committee, Global Economic Development Corporation, Housing Foundation of America, and many other Non-Profit Organizations.
She previously served as the President of the Foundation for Youth and Economic Development and on the Advisory Board of Catalyst Miami, the Prosperity Campaign of Miami Dade County, and the Board for the National Association of Real Estate Brokers (NAREB). Michele is also a member of Delta Sigma Theta Sorority Inc., a public service sorority.