Avoiding Common Money Mistakes
Roughly 8 in 10 Americans admit that they've made a money mistake that ended up costing them. Mistakes are bound to happen, but it's important to be resilient and learn from them. This infographic covers five common money mistakes and what you can do to avoid them.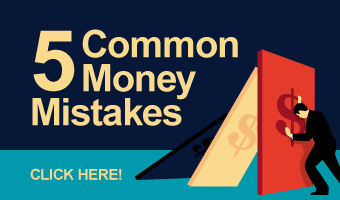 5 Common Money Mistakes And how to avoid them. 1. Not negotiating debt and interest rates You can lower or eliminate credit card late fees, debt in collections and medical bills just by asking. 2. Ignoring budgeting tech Using online tools could help you budget faster and easier. 3. Forgetting workplace advantages Ask if your employer can automatically send some of your paycheck to a savings account or match some of your 401(k) contributions. 4. Paying your bills manually Automating your payments will save you from paying late fees. 5. Falling for financial scams If you receive suspicious calls or emails asking you for money or personal information, ignore them.
Use this infographic
<a href="https://www.consolidatedcredit.org/infographics/avoiding-common-money-mistakes/" target="_blank"><img src="https://www.consolidatedcredit.org/wp-content/uploads/2021/07/08-August_ComMoneyMistakesInfog-IB.png" alt="Consolidated Credit's infographic showing five common money mistaktes" class="img-fluid" /></a>