Anticipation is high for the spookiest night of the year. Nearly 7 out of 10 Americans plan to take part in the festivities this October, putting Halloween participation rates on par with pre-pandemic levels. Not only do people intend to come out in droves, but they're going all out by spending more on candy, costumes, decorations, and pumpkins than ever before. Estimates put Halloween 2023 spending at a new billion-dollar record.
How much does America spend on Halloween? What are Halloween shoppers spending the most money on? Find out and see how your Halloween spending compares – if you dare. Plus, find helpful tips on avoiding a scary credit card bill with the holiday spending season just around the corner.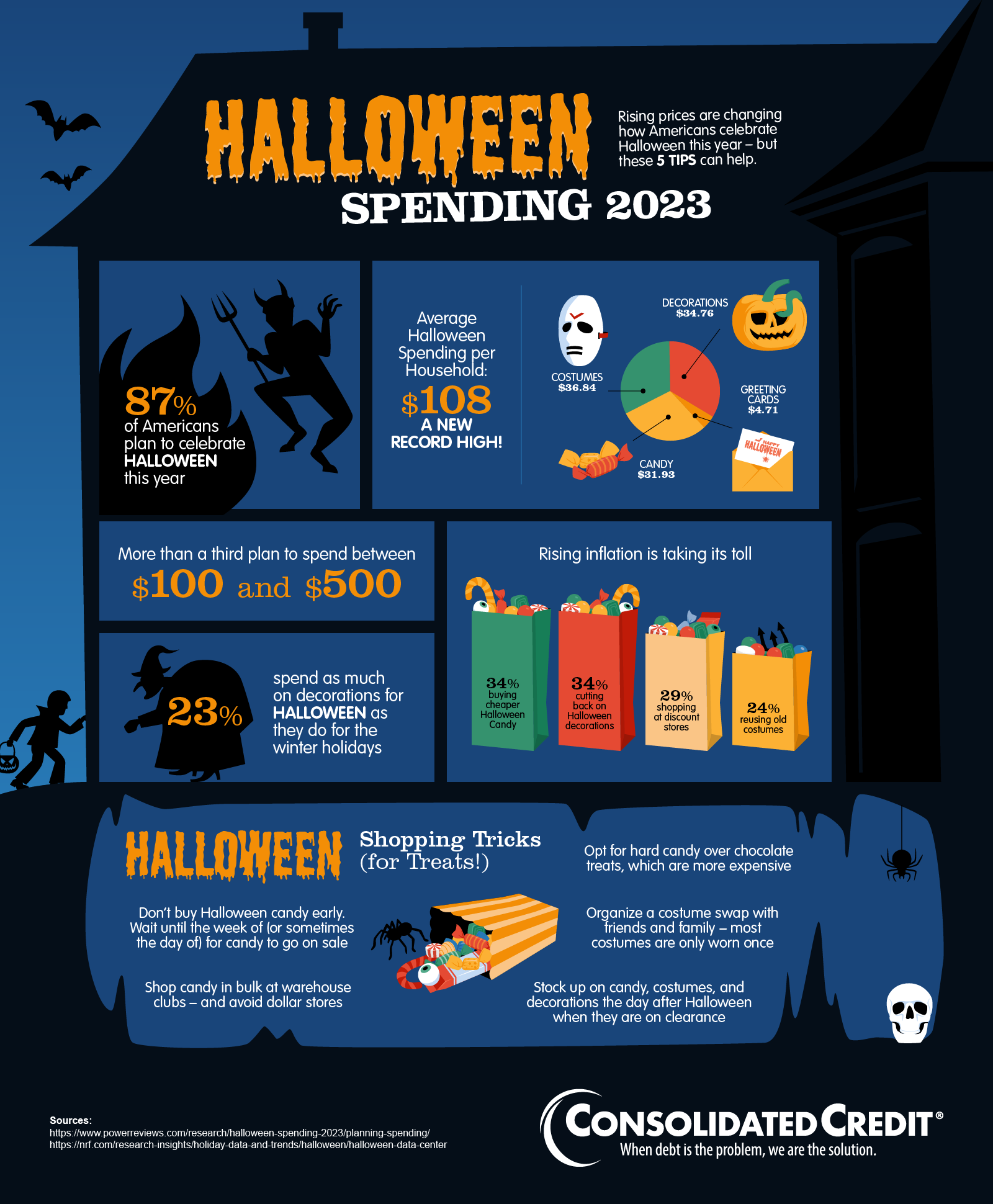 U.S. Halloween spending statistics
Halloween 2023 spending will reach an all-time high of $12.2 billion according to the National Retail Foundation, a major jump from the $10.6 billion spent in 2023 and a massive increase from the $8 billion spent in 2020.
What are Americans buying for Halloween?
The percentages of those buying candy, decorations, costumes, and greeting cards are pretty similar to last year's Halloween spending trends (Americans in 2022 are actually buying slightly less than last year).
96% are buying candy
77% are buying decorations
69% are buying costumes (includes kids and pet costumes)
35% are buying greeting cards
Average household Halloween spending
The expected average Halloween spending per household jumped from 2022 levels to a new record high in 2023. This year, it's estimated that Americans will spend an average of $108 on ghoulish preparations, up from the average $100 the year prior. Here's the breakdown of those average costs per household:
Candy: $31.93
Decorations: $34.76
Costumes: $36.84
Greeting cards: $4.71
Americans may find that there's more 'trick' than 'treat' in their Halloween candy hauls this year, as shrinkflation, the sneaky way manufacturers seemingly keep prices the same but actually give you less product, makes its way to the sweets aisle. Halloween costs across all categories are continuing to trend upwards – and are unlikely to come back down. Fortunately, there are a few things Halloween shoppers can do to save money.
How to save money on Halloween celebrations
Don't let credit card debt creep up on you. Here are some practical Halloween spending tips to help you save money.
#1 Buy candy in bulk
Halloween candy is one of those things that are best purchased in bulk. You don't have to wait until the day before Halloween for candy to go on sale to do so. According to consumer-savings experts, candy is priced lowest about 2 weeks before Halloween.[1] So, keep an eye on the weekly coupons or circulars from your favorite wholesale store. When big bags of candy go on sale, get to the store and buy what you need.
Just be realistic about how many trick-or-treaters you actually get in your neighborhood. Don't go overboard purchasing candy if you only get a few groups each year. Having leftover candy isn't good for your budget or your diet!
2: Get crafty
From indoor and outdoor decorations to costumes and makeup, Halloween is a holiday that was made for DIY. Instead of buying premade decorations and costumes, hit up your local craft store to purchase the materials you need to make your own Halloween spooks. If you have kids, this can be a fun project for the whole family to enjoy.
Also, don't waste money on costume makeup. For moms, raid your regular makeup drawer and look online to find tutorials on how to do over-the-top makeup using your everyday supplies.
#3: Swap decorations with friends and family
If you love to decorate for every holiday on the calendar, it can be tough on your budget. These days, inflatables, yard art, and even indoor décor can cost hundreds of dollars. That's not exactly an easy expense to absorb on a limited budget.
For those big-ticket items like inflatables that aren't easy to DIY, set up a decoration swap among your family or friends. Each person offers up an item that they're willing to trade. That way, everyone's yard can look like new without anyone spending money.
#4: Make parties potluck and BYOB
Paying for all the food and drinks at your Halloween bash can get pricey. Instead of footing the bill yourself, make the party potluck and BYOB. For food, you can supply the main dishes and ask guests to bring appetizers, sides, or desserts. Then for drinks, consider supplying beer, wine, and mixers, but ask guests to bring their liquor.
Also, remember to count portions correctly. Don't make enough to feed an army if you're only having a small gathering. If you can half a recipe and still have enough servings for your guests, take the time to do it. This will help you save money and reduce food waste at the end of the party.
#5: Don't buy costumes or special toys and treats for your pets
Pet stores have done a great job of convincing people that their pets need to be dressed up for every holiday. They also make a big business out of selling seasonal toys and treats. But really, your pets don't know it's Halloween. They can't tell the difference between their favorite chew toy and that new spider or ghost that you bought them. Don't waste money on seasonal toys and treats. And if you want to dress up your pet, go back to Tip 2 and get crafting.
#6: Check local calendars for free events
You don't need to hit up expensive paid haunted houses and theme parks to have a good time for Halloween. Avoid attending concerts or festivals that charge an entry fee. There are plenty of free local events going on in every city for Halloween. Check local papers and sign up for your community newsletter to find free events you can attend with friends and family.
#7 Stick to cash
Before you go Halloween shopping or out celebrating, withdraw a small amount of cash at an in-network ATM that you can use for food, drinks, and souvenirs. Once you spend that cash, stop spending. This will help you avoid spending more than you intended when you get hit up at craft booths and carnival vendors.
Spooked by credit card debt? Talk to a certified credit counselor.