Maintaining the right balance in your finances to keep moving forward.
When it comes to your personal finances, balance is critical to your success. Maintaining the balance between different financial concerns helps ensure that every aspect of your finances gets the attention it needs. As a result, you can avoid problems with debt and make headway to reach your financial goals, too.
That's the idea behind a Financial Wheel of Life like the one described below. It's based on an Eastern philosophy concept of a Wheel of Life, where each spoke of the wheel representing a different area of interest or need. These areas pull you in different directions, demanding your time and energy. It's up to you to balance your time between all of the areas in order to bring your whole life into balance.
A Financial Wheel of Life does the same thing for your financial outlook. It shows you how to balance your time, money, and effort between all of the different areas of interest in your financial life. The infographic below is designed to help you do just that. Of course, if you're struggling with debt, then your Financial Wheel is almost certainly out of balance and it's going to be hard to move forward. We can help. Call Consolidated Credit today at (844) 276-1544 to get a free debt & budget analysis from a certified credit counselor.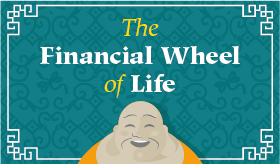 The Financial Wheel of Life Maintaining the right financial balance to move forward The Wheel of Life is a technique that helps you maintain balance by allocating even amounts of time to interests that pull you in different directions. A financial wheel of life does the same thing for your money. It helps you move forward by making sure you focus effectively. The Spokes of Your Financial Wheel Budgeting: Make sure bills/expenses are balanced with what you earn. Debt: Keep debt under control and minimized so it doesn't turn into a monster. Savings: Set money aside every month to reach your goals or overcome challenges. Credit Record: Make sure your credit report is clean and maximize your credit score. Basic Needs: Life necessities like housing, transportation and related costs like insurance. Health Needs: Keeping your family healthy and ensuring they're protected if something happens. Banking: Take time to compare accounts, monitor transactions, and watch for fraud. Retirement: Maintain lasting financial stability, even into your golden years. Maintaining Balance Devote the right amount of time, money and effort to each spoke. If you only focus on one or two areas, your wheel will become unbalanced. And other spokes can become weak to damage your overall financial outlook. But if you're dedicated to keeping all of the spokes in good condition, then your wheel will be balanced correctly and you can keep rolling along!