Use Consolidated Credit's hurricane relief checklist to speed up your financial recovery.
Hurricane Michael has devasted the Florida panhandle and part of Georgia. Millions have been left to pick up the pieces, facing significant property damage and even total home loss. Between lost income and uncertain insurance payouts, financial stress can run high after a storm. The infographic helps you understand the steps you need to take to take to recover as quickly as possible.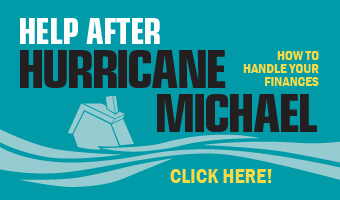 Help after Hurricane Michael: How to handle your finances Control your bills 1. Make a list of your creditors and their phone numbers. 2. Call to let them know you were struck by disaster. Ask about any temporary hardship or deferment options 3. Write down the details, including who you spoke with, time and date, any case ID you're given and a callback number 4. If your home is not habitable, call to suspend utility service Document everything Take photos in good lighting of all property damage. Report it as soon as possible to your insurance company Keep all your receipts. Don't throw out damaged goods or make major repairs until a claims adjuster visits you Seek out assistance You might get help paying for repairs and more immediate necessities. To find out what's available near you, visit www.disasterassistance.gov Consolidated Credit: When debt is the problem, we are the solution. Call 1-888-638-8571 consolidatedcredit.org
More tips for how to ensure you get the right help after a hurricane
#1: Realize that insurance claims can be different, depending on the damage
Damage caused by wind and damage caused by flooding are usually handled separately. So, if a claims adjustor is coming to your property, make sure to ask exactly what they will be assessing. Also, be aware that insurance payouts on flood damage may take longer, since they go through government's NFIP flood insurance program. That's usually separate from your private homeowner's insurance that covers wind and other damage.
#2: Always research companies that contact you offering relief services
It's sad but true that there are usually scams that targeting people looking for help after a hurricane. You may receive emails, phone calls and even text messages from companies offering to help you find relief. Some of them may be legitimate, but others may be scams. So, you need to do some research online to make sure any company offering help is on the up and up.
Check that the company is listed with the Better Business Bureau and has an A+ rating or better.
Check the ripoff report and other consumer reports websites to make sure the company is not flagged as a scam.
Look at independent third-party review websites to check customer reviews – never trust the company's reviews on their own website.
#3: Know what kinds of help you can get after a storm
There's another good resource that you can use at USA.gov that gives you helpful links to different types of relief services. These are the kinds of helps that are available on the site:
Help applying for Individual Disaster Assistance through FEMA
Disaster recovery loans for small business owners
Federal tax relief following a disaster
Help paying for food
Help paying utilities
Disaster unemployment assistance
Home repair assistance
FHA home mortgage insurance for disaster victims
File complaints about disaster relief fraud
#4: Consult with a professional
This is specifically valuable for homeowners who are looking for help after a hurricane. HUD-certified housing counselors are trained and versed to know about various problems that can provide disaster relief to homeowners. They can help you navigate the paperwork and help you set up an action plan for a faster recovery.
Attention Homeowners: Need to talk to someone about getting help after a hurricane? Get a free evaluation with a HUD-certified housing counselor now.