The blessing and the curse of FinTech and e-commerce
Consolidated Credit polled 940 U.S. adults to ask how their online shopping habits have evolved as a result of the pandemic. The results show shoppers haven't scaled back even with brick-and-mortar retail fully open everywhere. And unfortunately, the convenience that shopping online offers may be causing some credit challenges.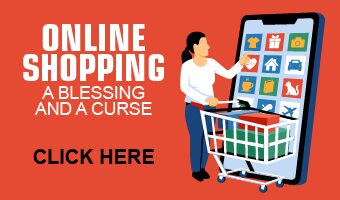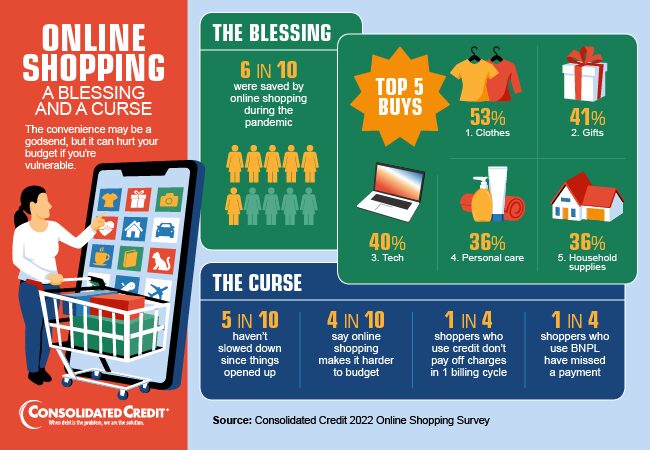 More online shopping survey results
How often do you shop online?
Never — 2%
Rarely – 11%
A few times a month – 37%
Once a week – 16%
A few times a week – 24%
Almost every day or every day – 10%
Did you start shopping online more as a result of the pandemic?
Have you cut back now that things are open again?
What do you typically buy online? (check all that apply)
Clothes – 53%
Gifts – 41%
Tech products – 40%
Personal care – 36%
Household supplies – 36%
Pet supplies – 28%
Office/work supplies – 28%
Groceries – 26%
Tools and parts – 26%
Experiences – 25%
Household goods – 26%
Meals – 18%
Does the convenience of online shopping make it harder to budget?
Which payment method do you use for online shopping?
Debit card – 29%
Credit card – 38%
Gift card – 6%
PayPal – 13%
Apple/Google/Samsung Pay – 3%
Other – 2%
[Credit Card Users] When using a card for online shopping, do you pay off the charges within one billing cycle?
Have you ever used a Buy Now Pay Later (BNPL) service?
[BNPL Users] Have you ever missed a BNPL payment?
What device do you use to shop online?
Smartphone – 64%
Computer/laptop – 27%
Tablet – 10%
How important is free shipping when you shop online?
I only buy if shipping is free – 45%
I can pay, but only if it's a good deal – 45%
I just buy what I need regardless – 10%