Average Back to School Costs in 2020
Stress and spending expectations during these times are high. We can help you set a better budget.
Due to the uncertainty of the coronavirus pandemic, most schools will continue to enforce partial or full at-home learning. In addition, reports from Deloitte showed that back to school and back to college shopping will most likely increase in the e-commerce or online route, thanks to safety concerns. Money to spend has increased overall, especially in regards to electronics.
The infographic shows how much parents plan to spend along with tips to help you save during these trying times.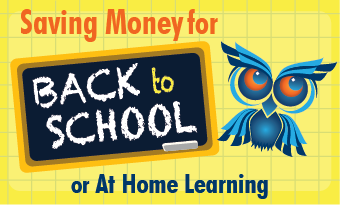 Saving Money for Back to School or At-Home Learning The pandemic has created challenges for parents everywhere. Here are some ways to save money and gain some normalcy for your children. Families with K-12 children will spend an average of $789.49 on back to school shopping. Electronics: $274.44 Clothes: $234.48 School Supplies: $131.37 Families with college students will spend an average of $1,059.20 on back to school shopping. Electronics: $261.52 Dorm Furnishings: $129.76 Clothing: $148.37 School Supplies: $83.78 Ways to spend wisely Clothes: Make a list of essentials. Only buy items they're grown or worn out. Shop clearance sales first. Filter out items by price online or start in the sales racks at the store. Avoid trendy items. Stick to the classics that will be versatile for mixing and matching. Electronics: Stick to necessities. Buy what they need to make at-home learning seamless. Consider warranties and insurance. Ensure warranties and insurance cover accidental damage. Purchase older models. A year-old model may save money compared to this year's "latest and greatest". School Supplies: Check the published list of supplies. Buy only the essentials and see if you have coupons for anything else. Shop at home first. Take stock of leftover supplies to see what you already have. Be smart about bulk shopping. Only buy pens, pencils and paper in bulk.
| | |
| --- | --- |
| If you need help balancing your budget during the back to school shopping seasons, talk to a certified credit counselor for a free evaluation. | Get Help Now |
Use this infographic
<a href="https://www.consolidatedcredit.org/infographics/average-back-to-school-costs/" target="_blank"><img src="https://www.consolidatedcredit.org/wp-content/uploads/2019/07/infographic.png" alt="Infographic showing average back to school costs for 2020" class="img-fluid" /></a>