Shopping for school supplies continues to get more expensive
As parents prepare for the upcoming school year, surging inflation is just one of many factors affecting back-to-school shopping. Back-to-school is the 2nd largest spending period behind the winter holidays, and nearly 3 in 5 parents are concerned about increasing prices.[1] So how do you save on school supplies without going into debt?
This infographic breaks down average back-to-school costs for 2023 and offers four savvy ways to save. Below the infographic, you'll find more information on how inflation has made an impact, on students' mental health, and technology.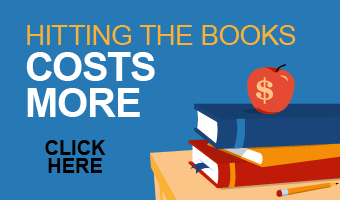 Inflation in the driver's seat
From record-high gas prices to the soaring cost of groceries, consumers are seriously rethinking how they spend money this year. Yet even with 57% of parents concerned about price increases in back-to-school products, families are still planning to pay quite the pretty penny for back-to-school merchandise.
Based on the infographic above, you can see that K-12 parents can expect to spend $864, while college families can expect to spend $1,199. But a more worrying statistic however is that 33% of households with students say that their financial situation has worsened over the past year.
"Even as economic and inflationary pressures sit top of mind, parents seem resilient and determined to ensure their children get the school supplies needed to succeed this coming year," said Deloitte vice chair and U.S. Retail & Consumer Products Leader Nick Handrinos.[1]
Mental health: Helping earlier
Mental health has been a serious issue around the world for years but is just now coming to the forefront of our attention. Among children, serious changes in the way a child learns, behaves, or handles their emotions could be a sign of a mental health disorder. This can lead to serious distress or difficulty making it through the day.
A recent survey of children aged 3-17 by the CDC found 2.7 million children suffer from depression, while 5.5 million suffer from behavior problems. [2] It doesn't seem that college students are faring any better either. A recent Mayo Clinic Health System survey found that one in three college students experience significant depression and anxiety. [3]
We've seen what can happen when mental health disorders in children and young adults are not addressed. The good news is that increased awareness of this issue means that parents are doing more than ever before. Half of all parents with K-12 and college students said they're concerned about their child's mental health. Additionally, one-third of parents are spending more on products or services to help their kids.[4]
Technology is changing
After heavy investment in technology during the pandemic, K-12 parents are going back to more traditional items. Spending on technology has dropped 8% while traditional items are up 14%. The reason for this shift is that 81% of parents say that their child's school provides the devices and other tech for them.
College, on the other hand, is the complete opposite. College households can expect to spend 22% more on technology products this year, up 16% from the "pandemic era", more than on household supplies (up 12%), clothing (10%), and dorm furnishings (down 15%). More than half (53%) plan on buying fewer traditional supplies as students have begun using more digital technology for school. Unfortunately, 77% plan to use Buy Now Pay Later or credit cards for their purchases. [5] That could lead to more challenges with credit card debt considering the price hikes due to inflation.
Set a budget for your school shopping
The best way to avoid school shopping debt is to set a spending budget. You look at your income and savings to decide what you can afford to spend. You then allocate your money to the various items your child will need. Even with average back-to-school costs rising, you can still avoid credit card debt with the right spending plan.
A great way to save money is to wait for after their first day of school. Grade schoolteachers and professors alike, normally hand out a syllabus or class materials sheet on the first day. This will guide you on exactly what your student needs for class.
Consolidated Credit's free interactive spending planner can help you set your back-to-school spending plan. With school starting back in just a few weeks, you don't have any time to lose.
If you need help balancing your budget during the back-to-school shopping season, talk to a certified credit counselor for a free evaluation.
Sources:
[1] Deloitte back-to-school survey
[2] Data and Statistics on Children's Mental Health | CDC
[3] College students and depression – Mayo Clinic Health System
[4] 2022 Deloitte back-to-college survey
[5] NRF | Families Prioritize Back-to-School and College Spending Amidst Rising Inflation