Reverse Mortgage FAQ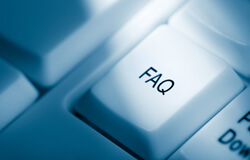 Reverse mortgages are a safe and secure financial tool but sometimes, consumers have misconceptions about reverse mortgages and how they work. To help you make an informed decision about using a reverse mortgage to support or improve your financial outlook, we've put together the following list of common questions we encounter about the reverse mortgage lending process.
If you can't find the answers you're looking for, you need additional information or you're ready to get started with a reverse mortgage lending counseling session, call Consolidated Credit today at 1-800-435-2261 to speak with a housing counselor for free.
How do I qualify for FHA's HECM reverse mortgage?
To be eligible for a HECM reverse mortgage from the FHA, the FHA requires that you be a homeowner 62 years of age or older. You must own your home outright or have a low mortgage balance that can be paid off at closing with proceeds from the reverse loan, and you must live in the home. You are also required to receive consumer information free or at a very low cost from a HECM counselor prior to obtaining the loan.
Can I apply if I didn't buy my present house with FHA mortgage insurance?
Yes. It doesn't matter if you didn't buy your home originally with an FHA-insured mortgage. Your new HECM reverse mortgage will be FHA-insured.