Helping homebuyers and homeowners get ahead of rising interest rates.
For the first time in more than 18 years, the Federal Reserve has raised interest rates. These rates are being pressed higher as an inflation-fighting measure. That's good news for homebuyers facing skyrocketing home prices and the serious home affordability gap we've seen in the past two years. At the same time, it also means rising mortgage costs for those homebuyers, as well as homeowners thinking of refinancing.  
With that in mind, Consolidated Credit's housing team is here to help. Whether you're looking to buy a new home, or refinance the one you're in, Consolidated Credit's housing team has answers. We also have a number of programs and upcoming events that can help you, too. To speak with a housing counselor today for free, please give us a call at 1-800-435-2261.
Understanding the cost of buying or refinancing a home
Rising costs for homebuyers
Mortgage rates are likely to increase because they follow the direction of the Federal Funds Rate, and predictions anticipate they'll trend upwards all year. This is bad news for those searching for a home because interest rates may be even higher by the time you get an offer accepted. Interest rates cannot lock in until a contract to buy a home is in place. This drastically reduces your loan amount, leaving you in a weaker position to make a successful offer.
Common costs for buying a home:
| | |
| --- | --- |
| Purchase price (base cost): | Varies, depending on the agreement reached with the seller |
| Lender fees/mortgage costs: | 3% – 20% down payment, alongside .5% – 1% of the loan for origination fees |
| Inspection: | $300 – $500 (additional charges for optional inspections) |
| Appraisal: | $300 – $500 |
| Title: | $2,000, though can vary |
| Insurance, property taxes, and HOA fees: | Vary greatly, available to you prior to submitting your offer |
| Maintenance: | Varies from community to community, or left to do yourself |
Rising costs to refinance
Rate-and-term refinancing changes your interest rate, the term of the loan, or both without the advancement of any new money.
Cash-out refinancing is when an existing mortgage gets replaced with a new one but comes with a larger amount than previously owed, allowing borrowers to use their mortgage to get cash. It's a form of home equity borrowing. As interest rates rise, it decreases the number of homeowners who can refinance to a lower interest rate. Thereby denying them the opportunity to decrease their monthly payments.
Common costs for refinancing a home:
| | |
| --- | --- |
| Application fee: | $75 – $300 (could be more) |
| Origination/underwriting fee: | .5% – 1.5% of principal loan |
| Recording fee: | *Depends on location* |
| Appraisal fee: | $300 – $400 (more expensive for larger properties) |
| Credit check fee: | $25+ |
| Title services: | $700 – $900 |
| Survey fee: | $150 – $400 |
| Attorney/closing fee: | $500 – $1,000 |
If you need help assessing those costs, reach out to one of our certified housing counselors today 1-800-435-2261. We'll look at your financials and determine where your financial health stands. If you need help saving up for these costs, we can help you create a budget to reach your goal.
Homebuyers: Should you buy a house now?
If you can afford the upfront costs of a house, it does make sense to buy now. While interest rates are climbing back up from their record lows, this is helping to lower the home sale prices. The lower the sales price, the lower the upfront costs will be. However, there are currently programs that help you afford these costs.
Sandra Tobon, Consolidated Credit's Director of Housing and Community Outreach explains…
If you are thinking about buying a new home, now is the time to start. If you are stuck and don't know where to begin, the first-time homebuyer program is a good place to start.
We also invite you to join us online for a free homebuyer orientation class that can help you get started.
Date & Time
Wed , May 24 | 06:00 pm – 07:15 pm
Date & Time
Fri , Jan 28 | 09:00 am – 05:00 pm
Homeowners: Is it a good time to refinance?
For many homeowners, now is still a great time to refinance. While no longer at the record lows of recent, mortgage rates are still low by historical standards. When you consider that dropping your rate 1% puts back almost 10% of your payment into your pocket, it's easy to see why people are still doing it.
However, the savings needs to outweigh the closing costs. You do have refi closing costs to pay and need to consider the fact you are agreeing to the start of another long-term mortgage.
Should you need help assessing the costs, to see if refinancing is worthwhile, don't hesitate to reach out to one of our certified housing counselors today.
Free webinar helps you save money either way
Consolidated Credit is hosting a free webinar at the beginning of June for National Homeownership Month. This webinar will help homebuyers find smart ways to save money, as the real estate market continues to be advantageous for sellers. It will also explain the costs and how to save if you plan on refinancing your home.
If you haven't already done so, make sure to sign up for our free, "Buy or Refi: How to Save Big Either Way" webinar today.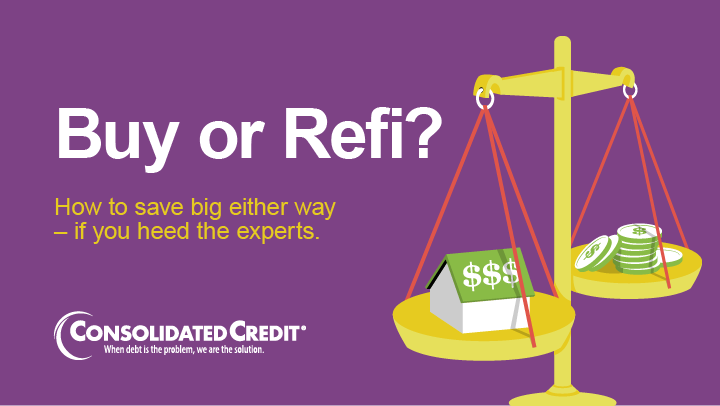 Whether you're looking to begin your buying journey or if you are looking to refinance, there are many ways you can save a dime. It all begins with a little budgeting…
Date & Time
Wed , Aug 09 | 01:00 pm – 02:00 pm
Online Service
GoToWebinar
See Details