Reverse Mortgage Process Steps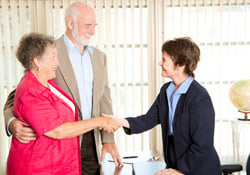 Understanding the steps in the reverse mortgage lending process can be essential to your financial success when you apply for a reverse mortgage. It's important to know what's coming up and what to expect so you can make the right decisions for your financial future and the future of your estate. A thorough understanding provides added peace of mind that you're making good choices when it comes to promoting financial stability.
If you're considering a reverse mortgage and you have questions or wish to get started, call Consolidated Credit today at 1-800-435-2261 to speak with a HUD-certified housing counselor for free with no obligation. We can help you better understand the reverse mortgage lending process and help you get started once you're ready.
Step 1: APPLICATION
When you apply, you may be asked to select a payment plan: a credit line, monthly advances (term or tenure), or a combination of a credit line and monthly advances. You may also be asked to select a monthly or annually adjustable interest rate, and to decide if you want your property taxes and homeowner insurance paid directly by advances from your loan. Some or all of these questions may not be asked until later in the process, depending on the lender you choose.
You will need to provide any information required by the lender, including a photo ID, verification of your Social Security number, a copy of the deed to your home, information on any existing debt (liens) on your home, and your reverse mortgage counseling certificate. You will also be asked to pay a loan application fee, which covers the cost of a home appraisal and a minimal credit check.