How Do I Fix a Mistake on My Credit Report?
My credit report shows missed payments for my mortgage after they granted me a 90-day forbearance earlier this year. They lender agreed to let me SLIP those payments, so why are they reporting them as missed to the credit bureaus?
Kasey
Texas
Forbearance and deferment can lead to credit report issues, but it's fixable.
Hi Kasey,
Sorry to hear that you're having issues with your credit report, but you're right that it's a reporting error. Under the CARES Act, any lender or creditor that grants a consumer a 90-day forbearance or deferment cannot report those payments as missed on the consumer's credit report.
Unfortunately, many consumers are having the same issue that you're having. However, the good news is that it is easily remedied. Lenders aren't trying to punish people who took forbearance. In most cases, it's simply a technical issue. Their systems were not set up to handle this kind of situation because no one saw this pandemic coming.
So, when the payment doesn't come in, the credit bureaus are notified automatically. However, the lender is required to fix the information for you. I'm not sure where exactly you are in the process of trying to correct this error, so this video will provide some basic information to help you get started, then I'll provide more information on what you can do in this specific situation below.
Featured Video:
How Do You Fix a Mistake on Your Credit Report?
This video explains the basic steps consumers should take to review their credit reports for errors, and how to correct those mistakes promptly.
[April Lewis-Parks, Consolidated Credit Director of Education] Hi it's April with Consolidated Credit and this is Ask the Expert. So, our question today is how do you fix a mistake on your credit report?
The FTC says about 25% of people in the United States find errors on their credit reports. And the first step that you need to do is go to annualcreditreport.com and get all three of your reports.
Then look them over and see if the same error is on all three reports. Next, you go online to the credit bureau's website and start the dispute process.
We also recommend that you send a letter to the bureaus as well. You'll need to explain why it's an error and any copies of the supporting documents. It's important to send letters by mail, using certified mail with return receipt. So, that way you have a paper trail.
It's also recommended to send a letter and copies of any documentation to the original source of the error. This is referred to as the "furnisher." The credit bureau has 30 days to investigate and verify information.
The credit bureau must also report the results back to you within five business days of completing its investigation. This process can be a hassle, but it can be worth it if you're looking to improve your credit score.
Fixing a credit report error caused by deferment
Depending on how you found out that the deferment was reported as missed on one report, you may need to check the others. Chances are that the lender reported the missed payments to all three bureaus, which means it appears on all three of your credit reports.
You can download and review your full credit reports for free through annualcreditreport.com. The bureaus are providing free reports every week now through April 2021. So, even if you downloaded your reports recently, you could still get them at no charge.
Once you confirm the missed payments are on all three reports, you have some options of how to proceed. The Fair Credit Reporting Act provides that you can contact either the data furnisher or the credit bureau that issued the report. In either case, the organization you contact has 30 days to respond.
Option 1: Contact the data furnisher
If the error appears on all three of your credit reports, then it may make sense to contact the lender who furnished the information first. If you can verify with the lender that the information that they sent the bureaus is incorrect, then they are required by law to correct the information with all three bureaus.
This will keep you from having to make the same dispute three times. If you contact the bureaus, then you need to keep in mind that they will not update each other. Thus, you will need to make the same dispute with each bureau.
Since you entered forbearance with the lender's permission, then it should be a matter of contacting their customer service department. Let them know that the payments were reported as missed to the credit bureaus. They should agree to contact the bureaus to correct the issue.
If they are not cooperative, then you still have a right to make the dispute with the bureaus and you may have more success.
Option 2: Contact the bureaus
If the missed payments only appear on one report for some reason or you can't make progress with the lender, then you should make the dispute directly with the bureaus. Here are some helpful links to make disputes with each bureau:
Keep in mind that the bureaus do not have any information about your account other than what has been reported to them. So, you need to be able to demonstrate that they payments that were missed were in forbearance.
If you received a forbearance agreement from your lender, provide a copy of that document as proof. It should list the period of the forbearance, which will align with the payments that are being listed as missed.
When you contact the credit bureaus, they will work with the lender to verify the information you provided. Once they verify that the payments missed were under forbearance, they will remove missed payment notations on your credit report. Then they will provide a free copy of your credit report so you can confirm the information has been corrected.
Option 3: Do both
If there's a reason that you need to have this information corrected as quickly as possible, say because you'll be applying for a new loan soon, then you may want to do both of the above options. As I mentioned in the video, you have the right to report the dispute to the credit bureaus and then notify the lender as well.
Letting everyone know at once may help expedite getting the error corrected as quickly as possible. That way, you can proceed with applying for any new financing without having to worry about these issues.
If you need more information, this booklet will walk you step-by-step through the process to make disputes.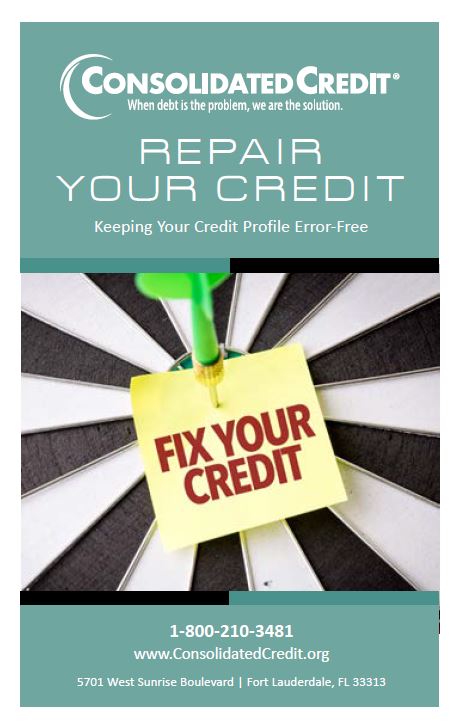 Mistakes in your credit report can drag down your score, making it harder to qualify for financing at low-interest rates. But you have a right to review your reports each year and dispute information that you believe is incorrect. This process is known as credit repair. Learn how it works and how to repair your credit for free on your own.