Learn how to vacation on a budget, so you can travel debt-free.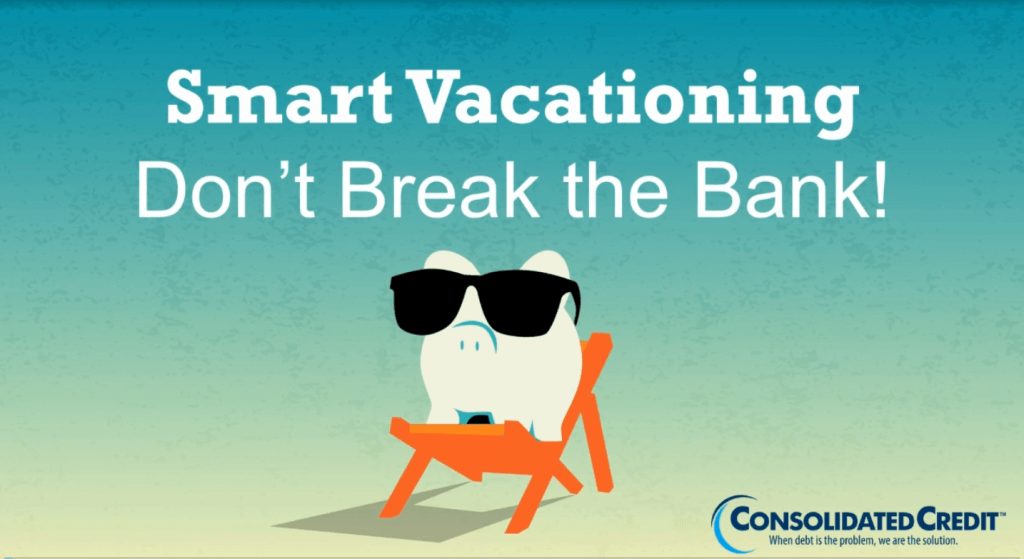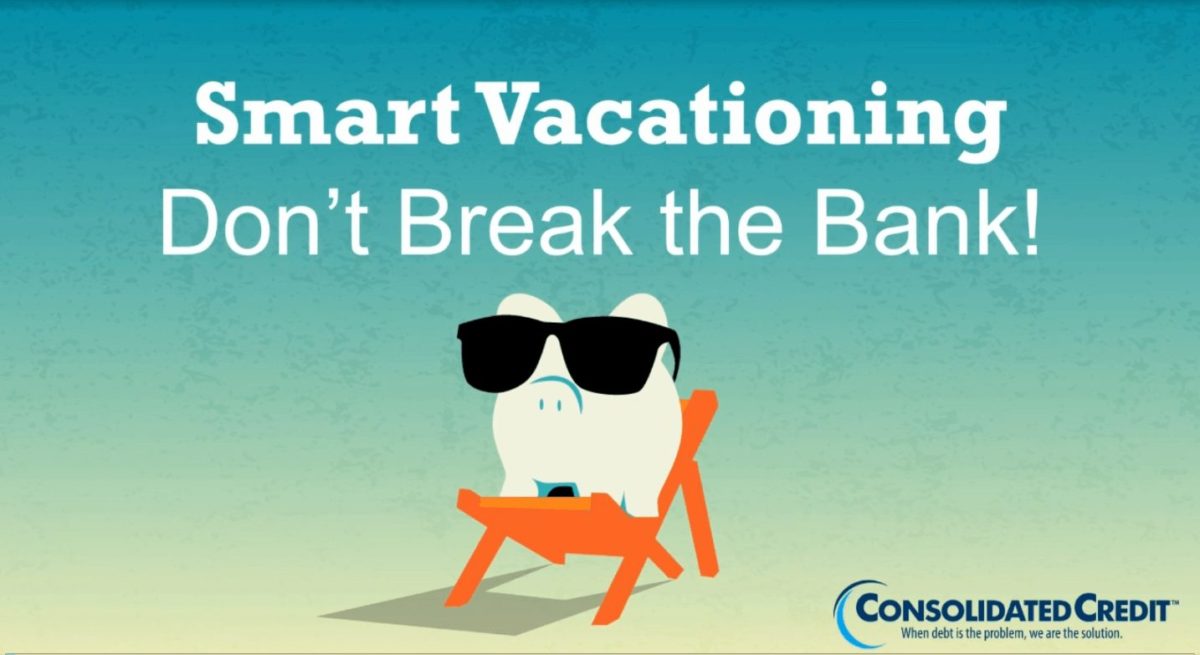 Summer 2021 is looking bright, and not just because of the sunny weather. As COVID-19 vaccinations promise some sense of normalcy, many Americans are returning to their favorite summer activity: vacation. 
According to a 2021 travel study from TripAdvisor, around 67% (or two-thirds) of Americans are planning on taking some type of vacation this summer. Of those, 53% plan on spending more on trips this summer than in previous years because they could not travel in 2020. Another survey conducted by IPX1031 found that the average travel budget for Americans this summer is $2,500. 
This amount of money can create a huge burden on your budget. If you're working to eliminate debt, you certainly don't want additional charges on top of your existing balances. Instead of canceling your trip, you simply need to set a vacation budget that doesn't break the bank. Consolidated Credit is here to help!
Use our Free Vacation Budget Planner to get started
We've created this interactive vacation budget planner to help you set a budget. First, choose how much to budget for a vacation based on your annual income. Then set targets for each type of expense. Once you factor in all your expenses, you'll get a vacation budget sheet outline that you can save or print.
| | |
| --- | --- |
| Do you have questions about how to set an effective vacation budget? Ask our certified financial coaches for advice and helpful tips. | Ask a Question |
Figuring out how much to budget for vacation planning
Living on a budget and working to pay off debt doesn't mean you have to skip things like vacations. Instead, you simply need to plan a vacation that works for your finances. That may mean putting off an extravagant trip in favor of one that's more affordable. This infographic can help you understand the average cost of domestic and international travel. We also include some affordable alternatives to pricey dream vacation destinations.
Pre-vacation planning tips
Financing a vacation comes in two parts. The first step is to plan your vacation and set a travel budget for all your expenses before you arrive. Following these budget travel tips can help you avoid credit card debt. Even if you use a credit card to pay for certain expenses, such as plane tickets or the reservation for a hotel room, you want to have funds available to pay off the charges quickly.
Step 1: Figure out how much you need to save out of each paycheck
Once you have your vacation budget sheet prepared, you can start saving up for your trip. Use a calendar to count out the number of paychecks that you have between now and when you want to book your trip. Now total up how much the travel reservations cost using the budget sheet and divide that by your number of paychecks. Now you know how much you need to save before you book your flights and hotel room.
After you have the reservations covered, do the same thing to figure out how much you need to save for the rest of your trip. If you don't have enough funds to cover the savings you need, review your regular household budget. Find expenses that you can cut back to increase the cash flow available for saving up for your vacation.
Step 2: Set up a vacation savings account
Saving money for your vacation budget in your primary checking account is a good way to ensure that money gets spent. Instead, move your vacation funds into a separate savings account. There are also money-saving apps like Digit and Piggy Goals that give you a separate account to save for a vacation. These keep the money out of your easily accessible accounts, so you're less likely to spend what you save.
Step 3: Find practical ways to save on travel and accommodations
Although the CDC has cleared fully vaccinated people to travel in multiple ways, flights are often expensive. So if you can drive to your destination, you can most likely save some serious cash. If you have to fly, don't book flights on the weekend since they're more popular and, in turn, expensive. Hotels are also crowded on weekends, so booking a trip for Monday-Friday may be more cost-effective and COVID-19 safe.
There are other ways that you can cut the cost of a vacation if you're willing to forego a luxury trip:
Step 4: Study your destination
Once you choose a destination, study it thoroughly. Most cities offer coupon books to travelers for discounts on food, entertainment, and events. Although some attractions might still be closed because of COVID-19, you may be able to find free local events, such as festivals, through community calendars. If you use apps like Living Social or Groupon, simply switch your location to search for discounts and special offers. This will help you plan activities that won't cost you an arm and a leg.
Avoiding overspending once you arrive at your destination
Once you arrive at your destination, it can be easy to get swept up in having fun. Just don't let your enthusiasm lead to overspending! Staying within your budget will be essential if you want to avoid bringing home credit card debt as a souvenir.
Step 1: Minimizing your vacation budget for food
After travel and accommodations, food is usually the next biggest vacation expense. Use these tips to avoid overspending that usually winds up on credit cards:
Consider getting a room with a kitchenette so you can cook a few meals in your hotel room
Hit up a convenience store to get drinks and snacks. Hotel vending machines are expensive!
Don't order room service, since that just adds charges
If you're driving, pack food for the trip instead of stopping along the way
Avoid tourist-trap restaurants. Ask where the locals eat, since it will usually be less pricey.
Find local food trucks and street vendors while you're out and about to get inexpensive meals.
Step 2: Use public transit
If you fly to your destination, try to use hotel shuttles to get to and from where you're staying. Rental cars are costly, so it's best to avoid them. You can also opt for airport shuttles to get to your departure airport, and avoid expensive airport parking. Another idea is to find a friend or family member that's willing to give you a ride.
Even if you drive to your destination, always try to use public transit. This will help you avoid added costs for parking and filling up on gas. If you decide to drive a vehicle—either yours or a rental—use GasBuddy.com to find the cheapest gas in that area.
Step 3: Find free things to do
Going back to the tip above from pre-planning, change your location on Living Social or Group to find discounts and coupons on local activities. If you're staying at a hotel, ask the concierge if they have a coupon book for local attractions.
You may also be able to find museums, art galleries, music, and cultural events that are either free or discounted.
Step 4: Gifts and souvenirs
Your vacation budget planner should allocate some money for gifts and souvenirs. Just make sure not to go overboard buying things for friends, family, and coworkers while you're there. Keep gifts to a minimum and don't waste money on cheap tourist trinkets. Steer clear of expensive shopping districts or going out shopping to buy clothes. Also, avoid self-gifting. The vacation is already your way of treating yourself and your family—you don't need to bring home extra items.
Step 5: Be smart with money on international travel
Now that some countries are allowing visitors again, many people are planning on going abroad. If you're dropping a lot of cash on an international trip, know how to conduct transactions in your destination affordably.
Check to see if you can use your debit card at ATMs. ATM fees will likely still be cheaper than exchange bureaus
If you're using a credit card, make sure it's one that doesn't charge extra foreign transaction fees.
Look online for tipping rules or ask the concierge about customary tipping. Most countries tend to tip less than we do in the U.S.
| | |
| --- | --- |
| Don't let credit card debt put a damper on your trip. Talk to a certified credit counselor now to find solutions to pay your balances off faster. | Free Evaluation |