How to make a big splash while saving on summer vacation.
Surging prices have people wondering if they even have the means to take a summer vacation. But after years of living like hermits thanks to a pandemic, travel-based businesses like airlines expect to see record profits.[1] So what's the key to saving on summer vacation so you can get away without going into debt?
This infographic breaks down some stats on how consumers plan on spending on vacations this summer. Below the infographic, you'll find some helpful tips and tricks for saving on summer vacation.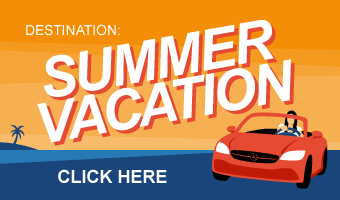 Destination: Summer Vacation Rising costs keep travel plans grounded •6/10 Americans will take at least one trip in 2022 •Almost 2/3 say gas prices will impact travel •1 in 2 say high costs mean downgrading travel plans Traveling Across the Pond •1 in 4 plan to travel abroad •Vacationers aged 18-29 are most likely to travel abroad Vacation Destinations •37% of Americans plan to vacation by a beach •28% prefer staycations •27% prefer city destinations •17% plan on vacationing at campgrounds •14% intend to vacation at amusement parks Money-Saving Vacation Measures •1 in 2 will travel to less expensive destinations •3/10 will take fewer trips •3 in 10 will travel shorter distances
Choose affordable alternative destinations
Let's face it, people often dream of taking a lavish trip to Paris or Australia. But there is a time and place for everything and a year with record costs may not be the best time to check your bucket list. For now, consider choosing less expensive alternatives to your dream destination to ease the burden of inflation.
Head to Montreal: Though most people dream of visiting Paris, visit French-speaking Montreal for equivalent delights. Montreal has everything from historic restaurants, to a wealth of museums, and even its own Notre Dame.
Try Belize, if you please: If the Maldives is out of your budget, consider Belize for its inviting waters and affordable overwater bungalows. Belize is also home to the Great Blue Hole, the largest underwater sinkhole on the planet. It can also be more affordable than vacation destinations like Cancun, where tourist traps tend to drive up prices.
Feel the Heat in Miami: If you're dreaming of a tropical getaway, but the cost of international travel makes you wince consider heading to Miami. You can experience a range of Latin and Caribbean cultures with one domestic flight.
Consider Philadelphia: Although there's no city like the Big Apple, Philadelphia has its own comparable historic sights, iconic food, fascinating museums, and a lively nightlife.
5 ways to save on summer vacation
Everyone needs a getaway to recharge, but if you fund the trip with credit cards then debt will be an unwelcome souvenir you bring home with you.
Learn when to book a flight
Airlines usually release flights at specific times in the day and the prices tend to fluctuate. Generally, experts advise booking your flight at least 54 days in advance to ensure you get a reasonable price. You can also sign up to receive alerts through Google Flights to track prices based on specific flights, routes, and dates.
Steer clear of cache
Travel sites use cookies to detect searches for flights or hotel rooms in your browser and raise the rates. To beat the system, clear your cache before every new search. If and when fares reduce in price, jump at the low-hanging prices.
Sweet-talk the concierge
Often people shy away from asking for an upgrade at the front desk of a hotel. There's no harm in trying. The worst that can happen is you don't get the room you already didn't have. But with a little sweet-talking, you may just get that room with the to-die-for view.
Whip out the plastic IF you can pay in full
Using credit cards can be a smart choice for vacation because there are plenty of rewards you can earn. If you travel internationally, you can also get a card with no foreign transaction fees to avoid added costs.
But you only want to use credit if you can afford to pay it off quickly. Rewards you earn on credit cards, whether it's cash-back or miles, will be offset by interest charges within 2-3 billing cycles. So, if you can't pay off the balance with one or two payments, it's best to stick with cash, debit, or prepaid credit.
Check into a new hotel
What people fail to realize is that newly opened hotels don't necessarily mean higher prices. In fact, when a hotel first launches occupancy and price rates tend to be lower. That's because newer properties want to attract more visitors. The same rule applies to newly renovated hotels.
Set a budget that fosters saving on summer vacation
The best thing you can do to avoid travel debt is to set a vacation budget. You look at your cash flow and savings to decide what you can reasonably afford to spend. Then you allocate that money to various parts of your vacation.
Consolidated Credit's free interactive spending planner can help you get started.
Finding it difficult to save for a summer vacation? We can help. Get a free budget evaluation today.
Sources
[1] CNBC – Inflation forces consumers to ask: Can I live without it?