Jamel M.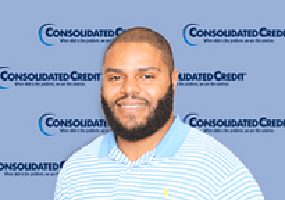 Before Jamel worked with Consolidated Credit, he worked for a credit card company – so he knows the business. Being a certified credit counselor is the best job he's ever had.
"This job, based off of life experiences alone, is something you can take any aspect of and apply it to your life," he says. "You learn how to budget and how to build credit. If you want to look into purchasing a home, there's a housing department. This is a pure reality of life job, it's the most useful job I've ever had in my life. Definitely, number one."
What's your favorite part about being a certified credit counselor?
"I like helping people prepare and review their budgets. It's satisfying, because people are telling you, 'Look, this is what happened and I need help with debt. I like the satisfaction that I can help people trim fat from their budget.'"