Ludole J.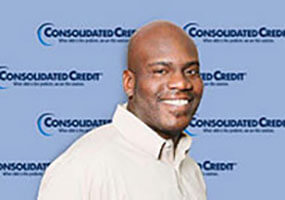 Like other Consolidated Credit certified credit counselors, Ludole worked first for a credit card company. He was a customer service rep with American Express, so he knows how easy it is to fall into debt.
"I wanted to be more directly involved in helping people out," he says. "Based off what I was doing in customer service -seeing the effect helping people had, I wanted to see the other side of the business."
What's the most memorable call you've received?
"There was a woman who called crying because she couldn't take the creditor calls anymore," he recalls. "She had also lost her son a few months earlier and had to use her credit cards to cover the funeral cost."
Ludole says the woman was about $16,000 in debt and because she was on a fixed income, she was having difficulty paying it down.
There's always a reason why people fall into debt. What's the most common reason you've heard?
"Poor money management," he says. "A lot of people don't realize it until it's too late. They use their cards over and over until it's a cycle and once the accounts are maxed out and they can't use them anymore, they start getting hit with fees. Sadly, that's when they realize they have a problem; that they need to get the accounts taken care of."