If you need us again, Consolidated Credit is here to help.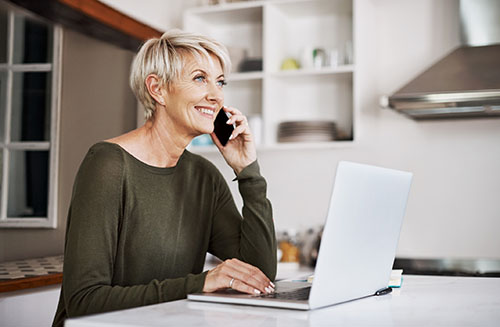 Maintaining financial stability isn't always as easy as we'd like it to be. In spite of the best-laid plans, challenges with credit card debt can arise even when you try to be diligent about preventing them. It's a situation Janis can definitely empathize with. After 20 years of stability following the successful completion of her first debt management program, Janis faced a new set of challenges with credit card debt.
Luckily, Janis already knew what to do. She reached out to Consolidated Credit at the first sign of trouble. And just like the first time, she was out of debt again in no time.
Debt strikes twice…
Early in her financial life, Janis had run into problems with credit card debt. About two decades ago, she completed a debt management program to eliminate the burden so she could achieve financial stability.
But time and temptation led Janis back into debt problems. She admits that she got too relaxed about charging things on her credit cards.
"I wasn't charging for anything specific this time either," she says, "just crazy stuff, clothing and things like that from department stores. I did it once and turned it around, but then I did it again. This time, no more!"
High interest rates were the biggest challenge…
Janis says that one of the biggest challenges was the high-interest rates on her credit cards. With over $10,000 in credit card debt, interest charges ate up every payment and made it nearly impossible to eliminate her debt.
Janis knew that APR was holding her back. So, before calling Consolidated Credit again, she tried calling her creditors to negotiate.
"A couple of my credit card companies didn't want to accept lower rates," she says.

When they wouldn't budge, she knew she needed to call in some professional support.
"I don't know what you guys did during the negotiation, but eventually they approved the plan and I was able to enroll. You guys are absolutely fabulous!"

That negotiation is a key part of the credit counseling process when someone enrolls in a debt management program. The credit counselor reviews the person's debt and budget to construct a repayment plan that works, but creditors have to agree to the new payment schedule for each debt to be included in the program. When a client decides to enroll, our team contacts each creditor to work out an interest rate reduction and to get their signoff on the client's enrollment.
Adjusting the program to fit her needs…
Another advantage Consolidated Credit was able to provide Janis was the ability to arrange her payments in a way that worked for her monthly budget.
This is another way we can help ensure that people can stick to the program once they enroll. Payments can be set in a way that works with your budget and your other monthly bills and obligations. Even if you run into challenges and can't make a payment on time one month, call to speak with a customer service representative. They can help you make arrangements so you can stay on the program and continue to make progress.
Rededicated to financial success…
Janis is committed to making sure that this time she stays debt free after she completes the program.
"I swear to God, I will never let this happen again."
Janis says that the biggest lesson she's relearned is to wait for the right time to purchase things.
"Save your money and wait for stuff to go on sale," she says. "It always does.
She's also spreading the word about the help that the program can provide. She's grateful for the help and paying it forward to help others in similar situations
"Thank you for being there for people who do silly things when they shouldn't – for people who waste money when they should be saving it. Thank you so very much. I've recommended you to others and will continue to do so."
If you've run into trouble credit card debt, talk to a certified credit counselor to make a plan to pay it off.