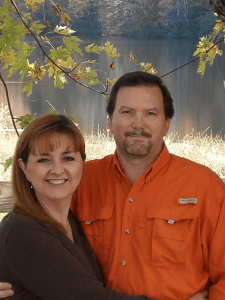 Certain professions, such as teaching, are not known to provide fantastic amounts of income. Public servants like teachers often struggle to make ends meet and live paycheck to paycheck. If you have two teachers in the home, that struggle can be even worse.
That's the situation that Janet and her husband were in. They both work for a school system in Georgia, and they get paid monthly. As a result, they were often forced to rely on credit cards just to cover all their expenses.
But with the help of Consolidated Credit, they were able to get ahead of their debt, learn how to balance their budget, and are finally enjoying a debt-free life, despite their limited incomes. Here is their debt story…
Money always ran out before the end of the month…
Janet says that it was always the same every month. They just barely had enough to eek by, but they usually managed to avoid running up their credit card balances to cope.
"By the third week each month, we would say, 'OK, we don't have much money left, so we just have to wait till the end of the month, stay home and save our gas. It's worth it because we see our balances dropping every month."
But home renovations ran up their balances…
Avoiding frivolous spending and sticking to a strict budget kept them afloat. But their trouble started when they decided one year that they wanted to renovate their home.
Home renovation projects tend to run up big bills. Even what seems like a small project at first can grow into a significant final price tag once you get started. Putting these types of projects on high-interest rate credit cards can be a recipe for disaster. It was for Janet and her husband
"We were not going out and just spending, we needed to do home renovations. But, we should've saved up and paid for it in cash instead of using credit cards."
Janet says that they tried to pay down their balances on their own, but on two teachers' salaries, it was nearly impossible. They simply didn't have enough money to make a dent in what they'd charged.
A TV commercial offered a ray of hope…
After months of struggling to get ahead on their balances without any headway, they discovered a potential solution while watching television one night.
"We had been thinking about how we could get out of debt, and a Consolidated Credit commercial ran. So we made a phone call that changed our lives. We are on our way to being debt-free for the first time in our lives."
Janet and her husband decided it was worth a try, so they made the call to get a free debt and budget evaluation. They talked to a certified credit counselor that explained the program and how it would work to help them get out of debt. The counselor also helped them set a realistic budget based on their limited income.
They were thrilled at the thought of lowering their interest rates…
One of the main benefits of a debt management program is that it reduces or eliminates the interest charges applied to your balances. Consolidated Credit works with creditors to minimize interest for each of our clients. That way, the clients can pay down the debt they owe, instead of burning money on acrrued monthly interest charges. It was a huge relief for Janet and her husband.
"They helped lower our interest rates on one loan in particular. We were misguided several years ago when we took out this loan. The interest rate jumped from 7 percent to about 23 or 24 percent, and it just really got on my nerves. So we decided we wouldn't use credit cards anymore and called Consolidated Credit."
This is a problem that many people run into when they try to use things like debt consolidation loans to pay down debt. Predatory lenders may tempt you in with a teaser interest rate, but then the rate can rise without warning if you didn't read the fine print of the loan agreement.
With Consolidated Credit, the interest rates that creditors agree to are locked in. They're also much lower than the rates people can usually get when they negotiate with creditors on their own.
With $5,000 in debt paid down, they look forward to becoming debt-free…
Now that theyve started their debt management program, Janet and her husband make one payment to Consolidated Credit every month. Consolidated Credit distributes the payment to their creditors on an agreed schedule. This helps them avoid damaging their accounts with missed payments.
Janet says it's been exciting to actually watch their balances go down. Each month, they get closer to their goal of paying off their debt completely.
"We still have two more years left on the program, but just knowing that we have paid $5,000 down, we can't describe the feeling. Every month, when I get my statement, I write it down. It makes me feel good when I go back and add it to see how much we've paid down in a year. It's thrilling to see how the interest rates dropped."
As they pay down debt, they're learning better financial habits…
While they've been enrolled in the program, Janet and her husband are taking advantage of the free financial education resources that Consolidated Credit offers. They've stuck to the budget that their counselor helped them set and attended monthly webinars to learn how to live financially healthy lives.
Janet says the support has reinforced lessons that they already knew, but needed to commit to more.
When they enrolled in the program, their credit cards were frozen. As each card gets paid off, the account is closed in good standing. Once they finish the program, they can open new cards if they wish. But Janet says they're enjoying living life without that potential trap.
"We hope never to use credit cards again. We didn't use credit cards at Christmas and we were also able to pay our taxes and property taxes without using credit cards or borrowing money. What a relief!"
Once they graduate, they'll celebrate with their savings…
When you finally start to pay down debt, it gives you breathing room in your budget. Janet and her husband look forward to the day that they can use their consolidated monthly payment for something other than paying down debt.
"Once we're done, we'd like to save up to go on a trip. I'm sure we'll celebrate knowing that we can put the money we were using to pay credit card debt –– into a savings account."
Find a better way to pay down debt
If monthly payments are getting you nowhere fast, it may be time to develop a better plan to pay down your debt. A certified credit counselor can help you explore options for relief and identify the best solution for your needs. You can get a free debt and budget evaluation, then decide if a debt management program is right for you.
If you're having trouble paying down debt on your own, we can help. Get a free evaluation from a certified credit counselor