Consolidated Credit Solutions is hosting a three-part seminar to teach military service members, veterans, and their families how to navigate the financial world.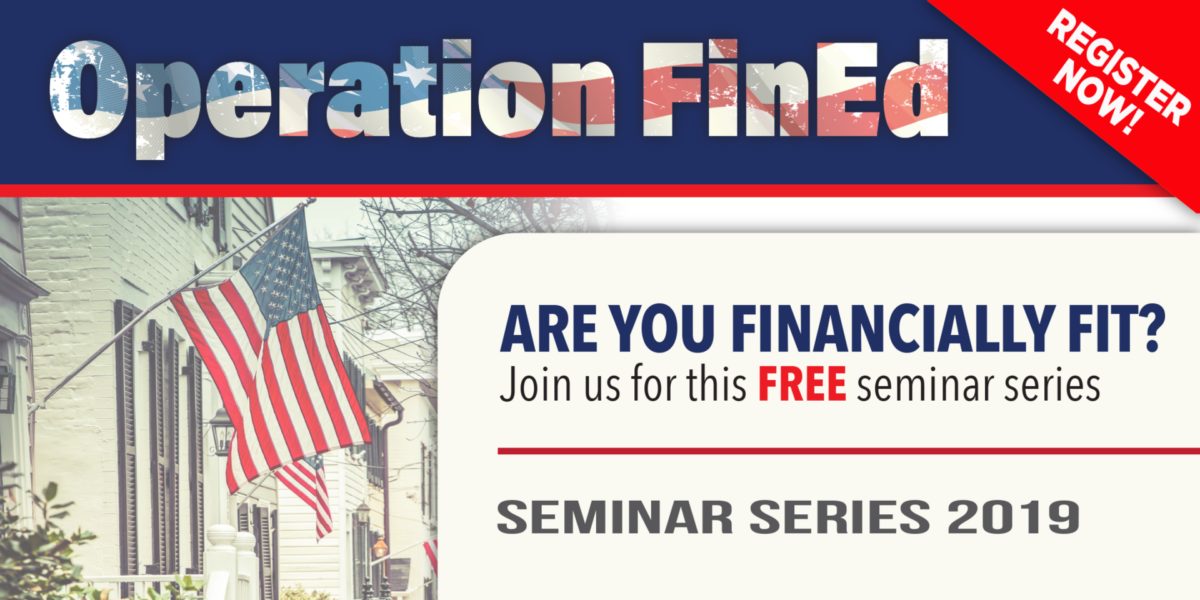 Military Service Members and Veterans face unique challenges that civilians don't. You may have been away on active duty. Maybe you were hit with moving costs for change of station. If left unchecked, the military lifestyle can lead many to mismanaged funds.
For instance, a 2017 report from the Military Family Advisory Network finds that 60 percent of military families and Veterans say they don't have enough savings for an adequate emergency fund.[1]
But Service Members and their families can overcome their financial obstacles through awareness and education.
That's where Operation FinEd comes in. The three-part seminar, hosted by Consolidated Credit Solutions in partnership with nonprofit United Way of Broward County's project, Mission United, is focused on doing just that.
"Our goal is to educate military Veterans, and their families, as they transition from active duty to civilian life," says Maria Gaitan, Director of Community Outreach at Consolidated Credit Solutions. "Day-to-day reality changes drastically when you leave the military. Before, they [Veterans] may have been provided housing, food, and even medical coverage. Now it's all new to them. So, we educate to prevent financial difficulties, because many didn't plan accordingly."
What can you expect to learn from these seminars? Below is a breakdown of each, and why you should attend:
Operation FinEd Seminar 1: Budgeting and Savings
Learning how to budget and manage money is important for anyone. However, Veterans earn a smaller paycheck post-deployment than on hazardous or combat zone pay. And many don't budget for when they retire and return home.
It's easy to spend excessively and splurge on their family to make up for the lost time while gone. And it's easy to forget the costly repairs around the house that were neglected while away.
The vast majority (92.5 percent) of military families have debt to repay, according to the 2017 MFAN report. The following are the types of debt they carry:
Transportation: 44 percent
Home: 42 percent
Credit cards: 6 percent
Living expenses: 2 percent
Medical: 5 percent
Family: 6 percent
General debt: 6 percent
Insurance: 5 percent
Electronics: 7 percent
Travel: 5 percent
Emergency / unexpected expenses: 3 percent
In the Budgeting and Savings seminar you'll learn:
How to maintain a balanced monthly budget
Strategies for creating and growing savings
The importance of establishing and maintaining good credit
Identity theft prevention
How to avoid money mistakes
Pros and cons of using credit
How to deal with creditors
Operation FinEd Seminar 2: First Steps to Homeownership – VA Edition
A recent report shows that post-9/11 Veterans are struggling to afford housing more than Veterans before them.[3]
Nearly two-fifths of this group of Veterans spend 30 percent of their income on housing. This generation of Veterans is also 5 percent less likely to be able to afford housing costs as their civilian peers. On top of that, there are more than 40,000 Veterans who go homeless every night.[4]
This data reinforces the fact that military veterans and their family members need to learn the basics of homeownership now more than ever.
In this First Steps to Homeownership with VA Loans seminar you'll learn:
How the homebuying process works and what to expect
How to become mortgage-ready
The importance of good credit as a homebuyer
Everything you need to know about the VA home loan program
Operation FinEd Seminar 3: Code Red RX
Military families experience financial stress the same as their civilian counterparts. There is one major difference, though, and that's the cause of their stress.
Veterans and their family members report having higher levels of financial stress than their non-military peers during the change from combat boots to civilian shoes, says Department of Defense research and outreach organization REACH.[5] Why is that? One reason is the way Veterans are compensated.
And it tends to be worse for those wounded while serving.
"Veterans often get a lump sum amount of benefits out of service – especially if they have a medical problem or disability," Gaitan says. "Their benefit adds up and they get a substantial chunk. But nine out of ten times they mismanage that lump sum of money."
In this Code Red RX seminar you'll learn:
The medical and wellness impact of financial stress
The impact of financial stress on your work and employment
Tactics to deal with credit card debt
Strategies to solve student loan issues
The CALM solution to debt
How to make the transition from military to civilian life
If you're still serving on active-duty, it's in your best interest to start building up a "transition fund." There may be some time between your military career and your next job. A new career path probably won't fall in your lap the next day. It's smart to stash away nine months to a year's worth of pay. Although it's good to have a rule of thumb, be realistic, stash away all that you can.
Make sure you budget for the change. Factor in housing items like your rent or mortgage payment costs.
When you find yourself back in a civilian job, you may feel the pay is much higher. But, be sure to break down the salary you need to pay your own life, medical, dental, and disability insurance. Because you won't be getting that through the military anymore.
Of course, there's no way we can cover all military Service Members, Veterans, and their families need to know about their financial life after service. That's why Consolidated Credit Solutions implores you to attend these vital events.
"I would like to see more Veterans take advantage of this type of seminar," Gaitan says. "They're free to them, and well, knowledge is power. After, Veterans and their families will be better equipped to handle what comes their way financially."
To register for any of these FREE events, please RVSP by phone by calling 1-888-881-3576.