Find Your Debt Relief Match
The most difficult part of getting out of debt isn't the actual process of paying it off. It's choosing which debt relief method will get you to that point.
Although we are a little biased toward credit counseling at Consolidated Credit, we are trained to present you with all of your options and help you choose the best method for your situation. April's webinar will review the details of five possible paths:
What's the difference between debt management and debt settlement? What's the difference between Chapter 7 and Chapter 11 bankruptcy? Why is it so complicated to get out of debt? We'll explain it all in mere minutes and in plain English. Tune in for our webinar called "What is the Perfect Debt Solution for YOU?" It's free! Sign up now.
To get a headstart before the webinar, here's an infographic that breaks down these five methods even further:

You're not done yet…
It's not over just because you chose a way to get out of debt. Here are a few other things to keep in mind while you're busy paying off what you owe:
Avoid taking on more debt
If you're enrolled in a debt management program (DMP), you can't open new credit cards. However, the other methods aren't so strict.
But this can be a bad thing! If you open up new cards while you're trying to pay down other debt, you could end up canceling out all of your hard work.
Change your habits
Now is the perfect time to alter your money habits for the better. Create a new budget that allows you to save money and make higher debt payments.
You can find all of our budgeting resources here, including videos, infographics, booklets, and more.
Maintain a debt-free lifestyle
Getting out of debt won't matter if you can't stay out of debt. Follow our guide on how to live debt-free to make your progress worth it.
Warning: Watch out for scams
Unfortunately, many scammers may try to take advantage of you as you shop around for the right debt relief method. Be wary of anyone who asks you for money upfront.
In the end, your safest (and cheapest) bet is to call Consolidated Credit for a free debt and budget analysis.
Until then, make sure to sign up for April's webinar: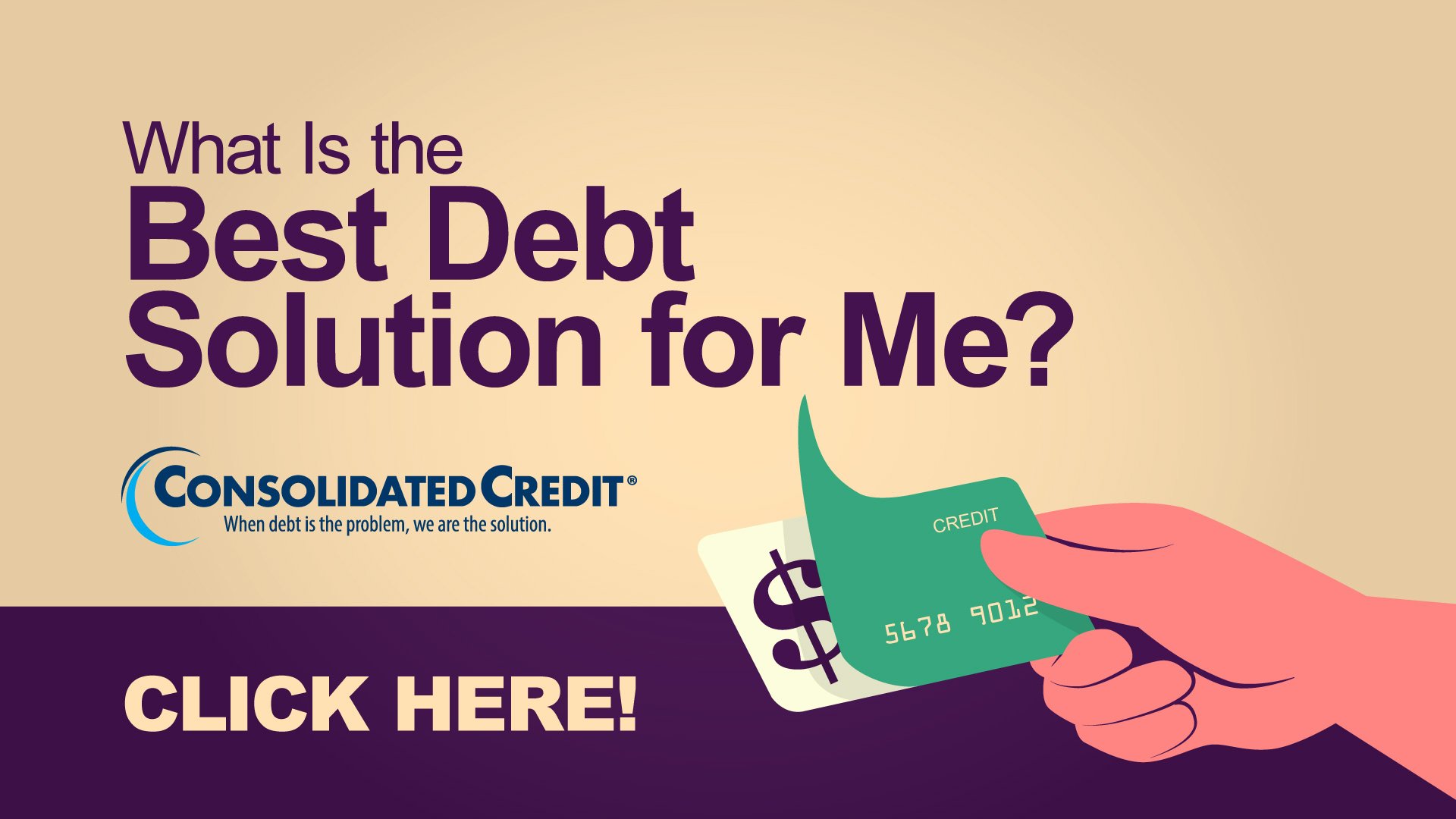 With so many relief options out there, it can be hard to know which one to use in your unique financial situation. Join us Wed, 02/10/2021 at 1:00 PM (EST) to learn how to find the best debt solution for your needs.

Date & Time: Wed , Feb 10 @ 01:00 pm - 02:00 pm Online Service: GoToWebinar. Cost: Free