Smart ways to celebrate Mother's Day that won't break the bank.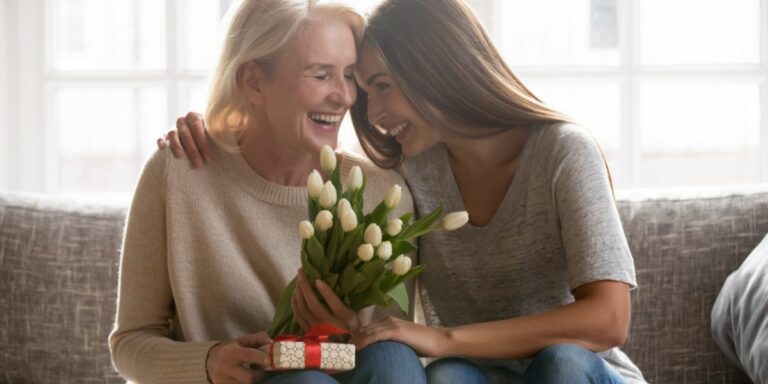 Mother's Day is the third most expensive spending event in the U.S. after the Winter Holidays, and Back-to-School shopping season. Let's be honest, we all want to spoil our mom and show her just how special she is. Hence the huge price tag. Even spreading the love on Valentine's Day pales in comparison.
But if you're living on a budget, one-off spending events like Mother's Day can throw off your financial plans. You need to be savvy if you want to avoid credit card debt. So, here's the lowdown on what to do for Mother's Day with no money—or at least next-to-no money.
When is Mother's Day 2023?
Mother's Day always falls on the second Sunday in May, which means it falls on a different day every year. This year Mother's Day falls on May 14th.
Smart ways to save money for Mother's Day
If you want to ease the burden on your wallet, there are a few ways you can spoil mom without digging yourself into a debt hole. Most moms say that they prefer time with their family over expensive gifts or gestures. So, sift through our ideas to find the perfect gift for mom.
Split the bill among the siblings
If you must spend the money to make your mom feel special because gift-giving is one of your love languages, then consider splitting the cost. If you have siblings, ask them if everyone can pitch in to buy mom one grand gift or a bigger outing as a family.
Order flowers locally
Since 72% of consumers gift flowers, according to the National Retail Federation, it can be cheaper to order flowers from a local florist than it would be to order them online. So, do some sleuthing and compare prices from different local florists to help you save. Then once you find the best bouquet for the lowest cost, schedule a pickup for next week.
This way, you avoid the added costs and upcharges that come with ordering flowers online. You also support local businesses, so it's a win-win.
Fun fact: According to the Society of American Florists, some of the most popular Mother's Day flowers are callas, freesias, and gerbera daisies.[1]
Create an appreciation jar
Sometimes the thought behind a gift carries more weight behind it than a gift with a hefty price tag. So, instead of spending big on those Jimmy Choo shoes, create an appreciation jar. Decorate a jar and fill it with little notes for all the things you appreciate about her and great memories of things she's done for you. If you have kids, have them writer notes for Grandma, too.
Then on Mother's Day, you can all read some of the notes as a family. Then she gets to keep the jar to dig through whenever she misses you or needs a reminder of how much you care and appreciate her.
Write a poem or letter
If you've got the knack to compose moving prose, write a poem or letter for mom that she can keep close to her or hang on the fridge with a magnet. Sometimes it's hard to tell people how much they mean to us in words. Jotting your thoughts down is a wonderful way to tell those you love exactly how you feel and what they mean to you.
If you want something tangible. You can print it out and get a frame for it. And if you're feeling particularly crafty, put it on a photo background for an extra touch.
Get a plant instead of flowers
Although flowers are beautiful, they don't often last very long. So, instead of getting mom a gift that is fleeting, invest in a plant that she can nurture and care for much longer than she could a bouquet of flowers.
If you have kids, they can have a lot of fun decorating the pot for Grandma for an added touch. Or you can bedazzle it yourself.
Try scrapbooking
Take the time to create a keepsake gift for mom. This will be great for both of you because you'll get to reminisce as you create your scrapbook and Mom will love the time and effort you put in just to give her something sentimental.
How to treat mom if you live close by
If you live a hop and skip away from mom, make the effort to see her and plan a fun event for Mother's Day. You won't have to burden your wallet, but it will require some of your time. And after all the years that Mom has put in for you, the least you could do is to make some time for her.
Plan a scavenger hunt
This may require a little more effort on your part, but it's well worth the effort. Create a scavenger hunt using some of your favorite childhood photos or items you made as a child. Your mom will enjoy spending time with you and solving clues that get her closer to her prizes while getting even closer to you.
Host a tea party
If you had fun tea parties as a child or if your mom is simply a Breakfast at Tiffany's fan, you can set the mood by hosting your own tea party. Set the table, make some cream cheese and cucumber finger sandwiches, buy some petit fours, and treat the special lady like the royalty she is!
Plan a picnic
Sometimes it's nice to get out of the house and just bask in the sun. So, grab your picnic basket and gingham blanket, then put together a charcuterie board with fresh meats, cheeses, and a fresh baguette to create the quintessential picnic experience.
Cook mom's dinner for a change
Is there a specific dish mom loves or one that she cooks and you adore? Then, treat her to a homecooked meal in the same vein mom has done for years. It's always nice to give back, so why not show your mom how much she means to you through the joy of food!
Host an at-home happy hour
If your mom is feeling parched, you can always tap into your inner bartender and create an at-home happy hour. For an added personal touch, grab those cocktail mixers and shakers and take the time to go through some recipes to come up with your own signature Mother's Day drink.
Give mom an at-home spa treatment
Who wants to leave home when you bring the spa to them! Think DIY nail treatments, massages, and facials to leave mom feeling pampered and refreshed. You could head to the dollar store and create a special gift basket with lotions, nail polish, hair masks, bath bombs, essential oils, and much more.
Gift mom some alone time
If you're a dad with younger kids in the house and you want to give the mother of your children the greatest gift of all, it just might be granting mom some alone time. After all the years she spent running after your kids and maintaining a household, the least she deserves is some time to herself. So, give mom the ultimate gift: Peace and quiet!
Need more money in your budget so you can spoiled your loved ones? We can help.
Sources
[1] https://safnow.org/aboutflowers/holidays-occasions/mothers-day/mothers-day-floral-statistics/