Rosa D.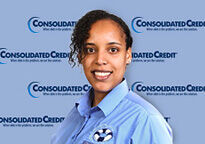 When Rosa moved to Florida from the Dominican Republic, she got an apartment next door to Consolidated Credit's headquarters. She noticed the sign and dreamt of working there someday.
Today, Rosa is a Consolidated Credit housing counselor with over a decade of experience in the credit and housing industry and could answer nearly any housing question someone could have—repurchase, post-purchase, rental, mortgage default, reverse mortgage, veteran's counseling—you name it.
Understanding Both Parts of the Equation
Rosa understands the difficulties people can have with housing because of their finances. Before becoming a housing counselor, she was a part of Consolidated Credit's financial counseling team. Her experience helping people get out of debt has given Rosa a more holistic background for providing housing assistance.
"As a rep, you have to be calm and do the best that you can to fix the problem," she says. "I always explain to them that they are taking the right steps to change their situation and that at the end, they'll look back and see it wasn't that bad."
She also sympathizes with clients because she has been through difficult times herself. After moving to South Florida from the Dominican Republic, she was unfamiliar with American credit and finance systems. This resulted in high balances, a low credit score, and struggling to stay afloat. To get on better financial footing, she entered a Consolidated Credit program while being a debt management program counselor.
"It was too hard to keep up with the minimum payments on my credit cards and student loans, so I decided to consolidate part of my credit card debt," she says. "I wish I knew then what I know now."
Why Rosa Loves What She Does
Rosa's motivation is knowing that her work makes a positive difference for her clients and helps them build the life they want. "Some people really need our help," she says, "It gives me a lot of pleasure to help people and see the difference we make in the community."
She has even helped her family enroll in Consolidated Credit programs. "My dad, brother, and cousin are on the program. I also had a friend who's graduated," she discloses. "I explained to them how the program works, and they agreed that it was the best option for them. They often thank me for the help and for the referral."
Don't let debt cloud your judgment
Having debt shouldn't stop you from pursuing homeownership. If you want to be in a better financial position to buy a home, call us at 1-800-435-2261. We can provide the answers and pre-counseling you need to become a homebuying success story.