At the end of 2020, Consolidated Credit polled over 1,100 Americans to ask how they felt about their financial situation compared to where they were at the end of 2019. The results show that people with a plan to pay off debt are more optimistic.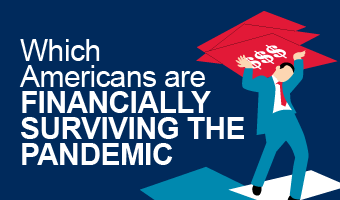 Which Americans are Financially Surviving the Pandemic Average Americans with similar money woes have contrasting outlooks and it has less to do with earnings and more to do with learning Reported job loss or reduction in income 14% of clients 13% of non-clients (13%) 23% of clients reported being "much better" off in 2020 over 2019 While Only 9% if non-clients could say the same When asked will your financial situation will improve in the coming months? 63% of clients said YES! Compared to 51% of non-clients A journey of 1000 miles starts with a single step Follow Consolidated Credit's New Year Money Tips Automate emergency savings or boost retirement funds A penny saved is a penny earned Call credit card issuers to negotiate a lower APR or waive annual fees If you've been in good standing they might be willing to reduce your interest rate Read a personal finance book Consolidated Credit has over 45 free personal finance booklets on a variety of topics If you have credit card debt that just won't seem to go down consider credit counseling Programs may be able to get you out of debt in 36 months depending on debt levels and it may save you thousands of dollars on interest About: Consolidated Credit ran the survey over a 30 day period and polled 1,151 people
If you have credit card debt, we can help you customize a plan to pay it off. Talk to a certified credit counselor today.