Free Credit Repair: Step-by-Step Credit Report Cleaning Instructions
Don't pay for a credit repair service when you can dispute errors in your report for free on your own.
Important Note: Debt elimination should always come before credit repair. If you're currently in the process of paying off debt, it's recommended that you complete your elimination plan first. Then you can review your credit to make sure your profile reflects your debt free status.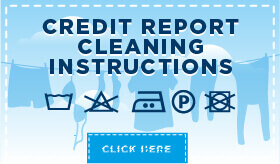 Credit Report Cleaning Instructions Proper care and cleaning to achieve a spotless credit profile. Step 1: Check the hamper Download 1 copy of each credit report from annualcreditreport.com By law, you can download a free copy of each report 1 time every 12 months. Site tracks if you've downloaded your reports recently. Which reports you'll need: Equifax, Experian, TransUnion Step 2: Check for spots and snags Review all 3 credit reports to identify errors 1 in 4 reports has an error that would decrease a credit score 1 in 20 have an error to drop credit score by more than 25 points Look for: 1. Incorrect current balances 2. Mistakes on payment history 3. Duplicate accounts 4. Misreported account statuses 5. Out-of-date collections/penalties 6. Credit inquiries you didn't authorize 7. Accounts you didn't open Step 3: Go through a cleaning cycle Follow the steps below to make disputes. Disputes MUST be made separately with each bureau By law, dispute must be answered within 30 days. Steps to follow for "spot" removal 1. Type out a concise dispute letter 2. Include full name, account information and nature of dispute 3. Attach any proof or documentation showing mistake 4. Send by registered mail 5. Note what date dispute was received 6. Address any follow ups immediately 7. Receive acceptance of remove or confirmation original information is correct Step 4: Repeat as needed Lots of errors may mean more than one cycle You should only include a few disputes in a single dispute letter If you have more errors on one report, send disputes in sets When to rinse and repeat: 1. Once you've received response on the first set, send the next 2. Include no more than 5 disputes in a single letter 3. Keep sending in sets until all disputes are addressed 4. Make sure to check again next year Tips to Ensure a Spot-Free Clean Make sure to cleaning tickets for the future: Save all paperwork you send and receive back for your records in case you need to pull something later. Consider covering up any remaining imperfections: If a dispute is rejected, by law you can include a 100-word response statement in your credit report. Avoid pulling old threads that could unravel: If you have an old account that's closed and paid off, don't remove it – it could hurt your credit score. All blemishes will fade in time: If you can't get an error cleared, all negative information gets removed eventually – usually after 7 to 10 years Source: https://www.federalreserve.org/pubs/biulletin/2004/summer04_credit.pdf
Routine Credit Repair is Crucial for Creditworthiness!
Lenders and creditors judge you based on the information contained in your credit report. Negative information can make you seem like a high-risk borrower. That can lead to rejected loan applications, higher interest rates and less flexible lending terms. So, it's critical to repair your credit regularly to keep your credit profile as clean as possible.
Tip No. 1: Review your reports at least once per year
The Fair Credit Reporting Act (FCRA) is the federal law that protects your right to maintain a clean and error-free credit report. It requires that all credit bureaus must provide a free copy of your credit report upon request for free. You can do this once every twelve months with each bureau.
The bureaus created a web portal that allows you to download all three reports from one place. It's annualcreditreport.com.
When you go to the portal, you have the option of download just one report, two or your reports from all three bureaus. So, how many reports should you download?
If this is the first time you've reviewed your credit, download all three. There's no guarantee that they say the same thing, so you want to make sure all your reports are error-free.
If this is your annual review and you plan to apply for credit this year, just download one. This will allow you to see what your profile says, so you can take steps to address and mistakes. It also gives you time to build credit before your financing application. Then, just prior to applying, you can download the other two to ensure your reports are all error-free.
If you just completed a debt elimination plan, download all three. You want to make sure that your reports show that your debts are paid and your accounts are in good standing.
Use this infographic
<a href="https://www.consolidatedcredit.org/infographics/free-credit-repair-instructions/" target="_blank"><img src="https://www.consolidatedcredit.org/wp-content/uploads/2017/04/US-Cleaning-Instructions_080118_CO-01_CCUS.png" alt="Credit Repair Cleaning Instructions infographic from Consolidated Credit" class="img-fluid" /></a>