The first step is to being a smart spender is to start early…
The winter holidays are the most expensive shopping season of the year. If you want to know how much you can expect to spend for the 2019 holiday shopping season, all you need to do is take a look back at last year. This infographic details how smart spenders vs over spenders got through holiday shopping last year and what it cost them.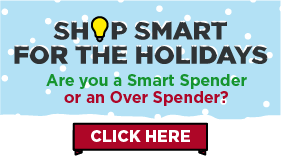 SHOP SMART FOR THE HOLIDAYS Are you a Smart Spender or an Over Spender? SMART SPENDERS START SHOPPING EARLY 18% of shoppers start in September 61% say they shop early to spread out their holiday budget OVER SPENDERS WAIT UNTIL THE LAST MINUTE 7% of shoppers are still shopping on Christmas Eve 44% shop late because they're still deciding what to buy SMART SPENDERS LIMIT GIFTS TO FAMILY Average spending on family gifts: $506 OVER SPENDERS BUY FOR EVERYONE Average spending on gifts for friends: $75 Average spending on gifts for coworkers: $26 SMART SPENDERS CHOOSE RETAILERS FOR THE RIGHT REASON 71% of shoppers choose where to shop based on discounts OVER SPENDERS CHOOSE RETAILERS FOR THE WRONG REASON 45% of shoppers shop at stores because they're nearby SMART SPENDERS OPT FOR LESS EXPENSIVE STORES 51% shop discount stores 55% hit department stores OVER SPENDERS WASTE MONEY AT EXPENSIVE RETAILERS 24% shop at electronics stores 13% go to specialty stores SMART SPENDERS ARE SMART ABOUT SHIPPING 94% of shoppers take advantage of free shipping OVER SPENDERS OVERPAY FOR SHIPPING 11% of shoppers use same-day delivery SMART SPENDERS GIVE BACK WITHOUT OVERSPENDING 13% of people volunteer to give back OVER SPENDERS GIVE BACK BY BUYING MORE 17% purchase stuff from brands that donate to social causes SMART SPENDERS GO FOR THE CLASSICS ON KIDS' GIFTS BARBIE has been the top gift for girls for nearly 15 years LEGO continues to be the top gift for boys OVER SPENDERS GO FOR GAME CONSOLES ON KIDS' GIFTS Current "best price" for a PS4 $299 Current "best price" for a Nintendo Switch $279.99 Current "best price" for an Xbox $199.99 SMART SPENDERS DON'T SPEND MONEY ON GIFTS FOR THEMSELVES OVER SPENDERS SPEND AN AVERAGE OF $155 SELF-GIFTING SMART SPENDERS REUSE DECORATIONS FROM LAST YEAR OVER SPENDERS SPEND AN AVERAGE OF $58 ON NEW DÉCOR SMART SPENDERS MAKE CASH PURCHASES OR PAY OFF DEBT EARLY Average holiday spending if you don't pay interest charges $1,007 OVER SPENDERS END UP WITH EXCESSIVE HIGH INTEREST CHARGES End up spending an extra $504.19 for interest charges on a minimum payment schedule for a total holiday spend of $1,511.19 Sources: https://nrf.com/media-center/press-releases/consumers-will-spend-41-percent-more-last-year-during-winter-holidays https://nrf.com/insights/holiday-and-seasonal-trends/winter-holidays
Eliminating holiday debt fast
Ideally, as a Smart Spender, you pay for everything you purchase with cash, debit or a prepaid card, so you can avoid accruing holiday debt altogether. However, the holiday shopping season comes with an average price tag of $1,007. Unless you save throughout the year start shopping early, you may not be able to afford all your expenses without relying on credit.
These tips can help you build an effective strategy to manage holiday debt:
You should only charge what you can afford to pay off during the first billing cycle.

You can use a credit card debt calculator to see how much your credit card transactions will increase your payments. Working backward, this can help you set a credit card spending limit for the holidays.

If you use a credit card for holidays purchases, always choose the card with the lowest interest rate.

Rewards are nice. But if you end up overspending and can't pay off the debt within a few billing cycles, the rewards you receive can be canceled out by interest charges. Reward credit cards tend to have higher interest rates. It only takes two to three billing cycles to offset rewards earned with interest added.

Track your credit card transactions throughout the holidays. If you see you've overcharged and can't pay everything off in the first billing cycle, use the debt calculator to make a plan for repayment.

The faster you pay off the debt, the less interest charges will increase the cost of your purchases. Every month you allow the balance to carry over means more interest is accrued. Never rely on minimum payments, because they keep you in debt longer.
Of course, if you get into real trouble with holiday debt and you find yourself reeling after the New Year, remember we're here to help. Call Consolidated Credit at (844) 276-1544.
Still paying off last year's holiday debt? Call Consolidated Credit for a free debt evaluation.