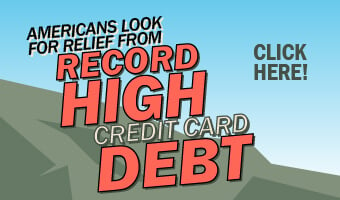 Americans Look for Relief from Record-High Credit Card Debt Total U.S. consumer credit card debt $1 Trillion Average household owes $8,600 … But that includes households that don't use credit cards! Average household that uses credit cards owes $15,654 Americans added $67.6 billion to our balances in the last three months of 2017! The good news is that people are being proactive about looking for relief! Consolidated Credit sees a 30% increase in calls in 2018 WHY? Debt management can reduce total monthly payments by up to 30-50% You can be out of debt in 36-60 payments With interest rates reduced to 0-11% Sources: https://wallethub.com/edu/credit-card-debt-study/24400/ https://www.nerdwallet.com/blog/average-credit-card-debt-household/
With total U.S. credit card debt over $1 trillion, more people are turning to Consolidated Credit for relief.
Consolidated Credit provides consumer credit counseling services. Credit counseling is a two-part process that starts with a free debt and budget evaluation. A certified credit counselor analyzes your debts, credit and budget to help you identify the right debt solution for your needs. That could be debt consolidation, a debt management program or even debt settlement, depending on your situation.
If a debt management program is the best option for debt relief, the credit counselor can help you enroll immediately. Consolidated Credit oversees the program, acting as an advocate for you and your creditors. They negotiate to reduce or eliminate interest charges on your debts and stop future penalties. As a result, you can get out of debt faster, even though you may pay less each month.
If you're struggling to pay off credit card debt and need relief, talk to a certified credit counselor now to evaluate your options.
Does Consolidated Credit work?
Consolidated Credit is celebrating its 25th anniversary this year. In that time, we've helped over 6.5 million people find relief from credit card debt. That's not always through debt management program enrollment. Only about one in every twelve people we talk to are good candidates for the program. For everyone else, we simply point you in the right direction of the solution you need.
This type of nonprofit consumer credit counseling works, because it doesn't drive you into just one solution. It doesn't try to shoehorn every consumer into using the same solution. Instead, it helps you identify the right solution for your unique financial situation. That way, you can move forward with confidence.
Debt management programs in action
Debt Consolidation in Action – a case study from New Jersey.
This debt consolidation story comes from Paul in Keyport. With over $30,000 in credit card debt, Paul paid over $1,200 each month just on those bills.
Consolidated Credit negotiated with Paul's creditors to reduce his interest rates so it would be easier to eliminate his debt. The program reduced Paul's monthly payments by over 50 percent.
He could get out of debt in less than five years instead of taking more than 15. Paul saved over $12,000 in interest charges.
And he had this to say about the program: "Five Stars. The program did exactly what the counselor promised and I couldn't be happier. Consolidated Credit help me save my credit and a lot of money in finance charges."
A debt management program is no silver bullet that will solve every problem with debt. But in the right situation, it can help a borrower:
Find a monthly payment that works for their budget
Save thousands in total interest charges
Get out of debt faster
Here are a few additional case studies from clients that have successfully worked with Consolidated Credit to eliminate their debt. Whether you have less than $10,000 in credit card debt or more than $100,000, we can help you!
Case Study
Gerald from Valrico, FL

"Consolidated Credit has been amazing. They made getting out of debt not so painful! Thank you. "
Where he started:
Total unsecured debt: $108,688.00
Estimated interest charges: $64,104.03
Time to payoff: 18 years
Total monthly payments: $4,347.52
After DMP enrollment:
Average negotiated interest rate: 5.25%
Total interest charges: $11,267.00
Time to payoff: 4 years, 8 months
Total monthly payment: $2,165.00
Time Saved
13 years, 4 months
Monthly Savings
$2,182.52
Interest Saved
$52,837.03
Case Study
Jessica from Dallas, TX

"Everyone has been very helpful and informative. Thanks, Consolidated Credit! "
Where she started:
Total unsecured debt: $8,251.00
Estimated interest charges: $4,455.58
Time to payoff: 10 years, 5 months
Total monthly payments: $334.12
After DMP enrollment:
Average negotiated interest rate: 2.22%
Total interest charges: $741.27
Time to payoff: 3 years, 10 months
Total monthly payment: $196.00
Time Saved
6 years, 7 months
Monthly Savings
$138.12
Interest Saved
$3,714.31
Case Study
Maria from San Mateo, CA

"I'm very happy with these services – it's quick and easy to setup. The counselors are very professional and make it comfortable to transition into this program. "
Where she started:
Total unsecured debt: $74,451.00
Estimated interest charges: $43,657.83
Time to payoff: 18 years, 8 months
Total monthly payments: $2,978.04
After DMP enrollment:
Average negotiated interest rate: 7.96%
Total interest charges: $18,090.40
Time to payoff: 5 years
Total monthly payment: $1,539.00
Time Saved
13 years, 8 months
Monthly Savings
$1,439.04
Interest Saved
$25,567.43