How Does Consolidated Credit Really Work to Help Americans Find Relief?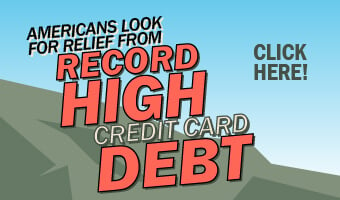 Americans Look for Relief from Record-High Credit Card Debt Total U.S. consumer credit card debt $1 Trillion Average household owes $8,600 … But that includes households that don't use credit cards! Average household that uses credit cards owes $15,654 Americans added $67.6 billion to our balances in the last three months of 2017! The good news is that people are being proactive about looking for relief! Consolidated Credit sees a 30% increase in calls in 2018 WHY? Debt management can reduce total monthly payments by up to 30-50% You can be out of debt in 36-60 payments With interest rates reduced to 0-11% Sources: https://wallethub.com/edu/credit-card-debt-study/24400/ https://www.nerdwallet.com/blog/average-credit-card-debt-household/
With total U.S. credit card debt over $1 trillion, more people are turning to Consolidated Credit for relief.
Consolidated Credit provides consumer credit counseling services. Credit counseling is a two-part process that starts with a free debt and budget evaluation. A certified credit counselor analyzes your debts, credit and budget to help you identify the right debt solution for your needs. That could be debt consolidation, a debt management program or even debt settlement, depending on your situation.
If a debt management program is the best option for debt relief, the credit counselor can help you enroll immediately. Consolidated Credit oversees the program, acting as an advocate for you and your creditors. They negotiate to reduce or eliminate interest charges on your debts and stop future penalties. As a result, you can get out of debt faster, even though you may pay less each month.
Use this infographic
<a href="https://www.consolidatedcredit.org/infographics/how-does-consolidated-credit-really-work/" target="_blank"><img src="https://www.consolidatedcredit.org/wp-content/uploads/2018/03/RecordHighDebt-CCUS.jpg" alt="Infographic: Americans Look for Relief from Record-High Credit Card Debt" class="img-fluid" /></a>