Between stay-at-home orders and stalled state reopening plans, small businesses are struggling to survive in the age of coronavirus. This infographic helps small business owners understand relief programs, as well as other strategies that can help you get through this crisis.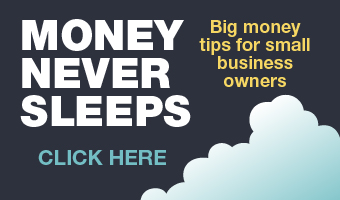 Money Never Sleeps Big money tips for small business owners Here are just a few of the ways you can get help for your small business during the coronavirus pandemic: Government funding Paycheck Protection Program A loan for payroll, interest for mortgages, rent, and utilities. Three-fourths must go to payroll. Economic Injury Disaster Loan Advance A loan advance of up to $10,000 to provide relief for plunging revenues. Currently frozen, but Congress is considering restarting the program. SBA Debt Relief The Small Business Administration (SBA) is automatically paying the principal, interest, and fees of current 7(a), 504, and microloans for six months. Small business loans Before you apply, follow these 5 steps: 1. Build up your credit score. 2. Learn the requirements. 3. Collect your documents and data. 4. Write up a business plan. 5. List collateral. DIY solutions • Refine your small business budget. • Get all your financial statements together. • Solve your cash-flow problems. Watch out for scams! Never pay fees upfront. Don't be fooled by suspicious emails with large money offers. If you want a real loan broker, reach out to your local SBA office or SCORE office.
Continue learning
This on-demand webinar offers more detail to help small business owners survive the crisis caused by COVID-19.
If your personal finances are also taking a hit during the COVID crisis, we can help. Talk to a certified credit counselor for a free evaluation.