There are a series of federal laws in the U.S. that are designed to protect consumers from abusive financial practices. Knowing your rights is an essential part of knowing how to manage your finances correctly. It can protect you from predatory lending and harassing debt collections.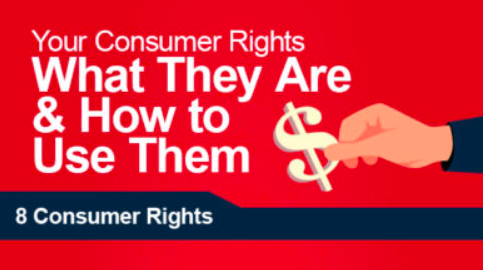 Your Consumer Rights: What They Are and How to Use Them 8 Consumer Rights 1. Basic needs Satisfy your need for food, clothing, shelter, etc. 2. Redress Take action against being cheated or ripped off 3. Consumer education Access unbiased information about purchases 4. Healthy environment Minimize environmental impact 5. Safety Be protected from harmful goods and services 6. Information Be protected against misleading advertising 7. Choice Have the final say in what you buy 8. Expression Complain publicly about a product or service 3 Major Consumer Protection Laws FCRA – Fair Credit Reporting Act Ensures you get a free annual credit report FDCPA – Fair Debt Collection Practices Act Puts limits on debt collectors Credit CARD Act – Credit Card Accountability Responsibility and Disclosure Act Regulates credit card companies Other Laws That Protect You TCPA – Telephone Consumer Protection Act Created the concept of a do-not-call list TILA – Truth in Lending Act Requires lenders to give you clear, concise info CROA – Credit Repair Organizations Act Bans credit repair businesses from charging upfront Consumer Financial Protection Bureau The CFPB gets money back for people who have been scammed. How much money? $12.4 billon recouped for over 31 million consumers. Consumer Complaint Database: consumerfinance.gov/complaint or (855) 411-CFPB
Continue learning
This on-demand webinar goes more in-depth on consumer rights laws and the protection that they offer consumers. Watch now to learn more!