Erick R.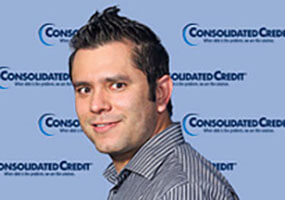 One of Erick's first client enrollments as a certified credit counselor was himself. He was able to cut his interest rates by 21 percent, raise his credit score by almost 100 points, and gain freedom from credit card debt.
"When I started working here I had $14,000 in credit card debt," he said. "I lost my job and was unemployed for six months and was using credit to get by. I started working for Consolidated Credit and decided to put my accounts into the program. My interest rate dropped from 27 percent to six percent. My credit score shot up from 676 to 767."
Erick says he loves what he does. Even though it's a job, he's not really working – he's helping people and that's very rewarding.
What were your thoughts about consolidation companies prior to becoming a credit counselor yourself?
Once I started working here I learned about counseling and personal finance and realized that it works. I experienced it for myself and I can tell anyone that, in most cases, a Debt Management Program isn't going to negatively affect their credit. By enrolling myself in the program I was able to pay down my credit cards, my debt ratio was lower and that actually boosted my credit score. So I'm living proof that the program does work.