Erick R.
Certified Credit Counselor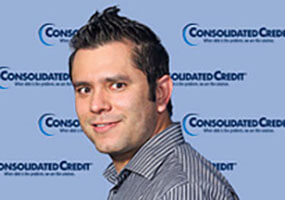 One of Erick's first client enrollments as a certified credit counselor was himself. He was able to cut his interest rates by 21 percent, raise his credit score by almost 100 points, and gain freedom from credit card debt.
"When I started working here I had $14,000 in credit card debt," he said. "I lost my job and was unemployed for six months and was using credit to get by. I started working for Consolidated Credit and decided to put my accounts into the program. My interest rate dropped from 27 percent to six percent. My credit score shot up from 676 to 767."
Erick says he loves what he does. Even though it's a job, he's not really working – he's helping people and that's very rewarding.
What were your thoughts about consolidation companies prior to becoming a credit counselor yourself?
Once I started working here I learned about counseling and personal finance and realized that it works. I experienced it for myself and I can tell anyone that, in most cases, a Debt Management Program isn't going to negatively affect their credit. By enrolling myself in the program I was able to pay down my credit cards, my debt ratio was lower and that actually boosted my credit score. So I'm living proof that the program does work.
How do others feel about your job?
They feel proud that I'm doing something good for people. Many of people hear the word "consolidation" and they don't know what it's all about, but once you explain it to them, they think it's pretty interesting.
Some others are skeptical about the program because many have been scammed by other companies. But if you research and look into our company's website and the Better Business Bureau you'll find that we're legit. Most people who call in ask if we are going to take their money and walk away, but once I explain to them what we do most of them enroll.
What inspired you to become a credit counselor?
The fact that I would be helping and interacting with people caught my attention. I like talking to people and helping them out is pretty rewarding.
What's the most memorable call you've received?
I remember talking to a 65 year old grandmother who had $60,000 to $70,000 in credit card debt. Her interest rate was pretty high. I asked her what got her into debt and she said that her grandson was born with a brain tumor and that the insurance company wouldn't cover all the medical expenses. As a result, they ended up using credit cards to cover the surgery. She actually sent me pictures of the baby after surgery. That was intense. We were able to lower her monthly payments and she was very, very satisfied. The baby is doing fine now.
What's the most common reason people give for falling into debt?
Unemployment up until recently, but things are getting a little better. Generally it's lack of financial education and poor money management. Many people don't know what their interest rates are. They make the minimum payments and that's all they know because they don't check their statements. Also, with many people going paperless they don't try to find out. You ask them if they have their statement and the response usually is, "I don't know. I just pay my bills." The majority of the job entails counseling people on how to handle their finances.
What's the most bizarre reason for being in debt you've heard?
We get many calls from people who have gone shopping, overextended their credit cards and try to hide it from their spouse. Sometimes it can be up to $80,000 in credit card debt and they request that if you call the house don't mention it to their spouse and we don't.
How do you separate your work life from your personal life?
When I go home sometimes people's stories revolve in my mind. You hear many stories about cancer, a spouse passing away, shootings, car accidents, things like that. It's the kinds of stories you hear on the news and you think that they are really unbelievable, but working at Consolidated Credit you realize that that stuff on the news happens to real people.
What's the most challenging part about your job?
You have to be a good listener and learn how to understand people. You get people from all sectors of society – sometimes you'll get a call from someone who is an attorney with $200,000 in debt. Sometimes you have to pause and digest what people are saying. Being in this job, you have to separate the heartbreaking part otherwise you will be soaking it all up and you won't be able to work. You have to find the right balance.
What's the nicest thing a graduate from the program has ever said to you?
This year I received a Christmas card from a client saying, "I really appreciate what you do. I can see a light at the end of the tunnel. Thanks."
Has anyone cried upon completion of the program?
Yes – from happiness. Some also cry at that first call often because they are desperate. When they do, I let them cry and tell them I'm here to listen and we'll try to figure out a way to fix the situation. Upon completion of the program they are really thankful. In fact they refer a lot of their friends and family.
Overcome Your Own Challenges with Debt
There are many reasons why people fall into debt but whatever your reasons, there is help available. Turn those sad tears into happy tears and become your own success story. Call Consolidated Credit for free at 1-888-294-3130 and enlist the help of a certified credit counselor. You can also get started online by requesting a Free Debt Analysis.