8 Ways to Combat High APR Problems
What is high APR for a credit card and how do you counteract it?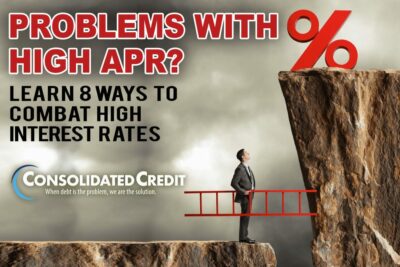 Credit cards have relatively high interest rates compared to other types of debt, like loans. So by comparison, all credit cards have high APR except during 0% promotional offers. But there is a certain limit beyond which credit cards have notably high rates.
Currently, average credit card APR is around 16%
Reward credit cards tend to have higher APR, averaging above 16.25%
If you have bad credit then it means higher APR, too; average APR is currently over 25%
You can find the interest rates for your accounts listed on your monthly credit card statement. They are usually listed in a table somewhere on the first page of your statement. Compare the rates above to your credit card interest rates to see if yours are high.
Again, keep in mind that even if your rates are on par with the rates above, that's still high. Even with average credit card APR, there could be more efficient ways to pay off your debt. Review the solutions below and consider your options carefully to make an effective plan to eliminate credit card debt.