Julie G.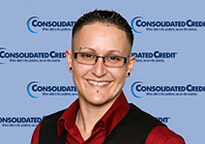 Before Julie G. became a client service rep, she had a job that was similar but different: she worked for an IT company, answering calls from confused customers whose computers didn't work. But people are more complex than computers, she says. So her 11 years at Consolidated Credit have been the most challenging and fulfilling part of her life.
"I like helping people, I like being able to provide a good source of knowledge to people that they can use in the future," she says. "People are going through all sorts of stuff and fall into debt because of these issues. You hear stories from a death in the family to 'How am I going to pay my bills?' to 'I'm living in the streets.' And sometimes you have to be a counselor, psychologist, and psychiatrist."
What's the most memorable call you've received since becoming a customer service rep with this company?
"I had a situation a long time ago where the client was tired of paying his bills," she remembers. "He was living in his car and was in a lot of debt. His wife had taken the kids and left him, and he couldn't see them. He had also lost his job, and he felt he had no purpose in life. I remember him saying while cocking a gun in the background, 'I don't care about anything else I just want to get out of here.'"
Julie says people are carrying heavy loads and some to the point of taking their own lives over it. She stresses that people don't have to go through it alone and should seek help.
"I do my best to help clients," she says. "Being able to help even a little makes my job worthwhile."