Talk to Your Aging Parents about Money
Don't wait to discuss financial planning with your parents. The time is now.
"This is a touchy topic for everyone involved. But if adult children think discussing finances is hard, just wait until their parents become sick from a debilitating disease like dementia or Alzheimer's and their whole life savings are sucked dry – that's hard to take, and it happens all too often," warns Gary Herman, president of Consolidated Credit.
Managing your money during your golden years can be a challenge. Many children and parents alike believe that they can rely on Social Security income after retirement, but the reality is often disappointing. It can be difficult to pay bills on these monthly checks, much less enjoy a comfortable standard of living. Your parents may also have complicated financial affairs that will take a while to sort out, so it's best to start early.
How can you beat the odds and preserve your parents' financial stability, rescue their life savings, and protect your inheritance? Use these tips to start building a checklist as a family.
Building an aging parents finances checklist
Starting the conversation
The first step is to set up a time to speak with your parents. If you have brothers or sisters invite them to the discussion. It should not be confrontational. You're all there to find out pertinent information about your parents' finances. You need to see what they have in place for their future, such as a will, an advanced healthcare directive or maybe nothing at all, which could lead to trouble. Also be sure to discuss assisted living if it's an option.
When you have this conversation, your elderly parents are still functioning adults that want to hang on to their independence. Instead of handing them down a child-like to-do list, talk through the process together and create a personalized aging parents' finances checklist.
Sample checklist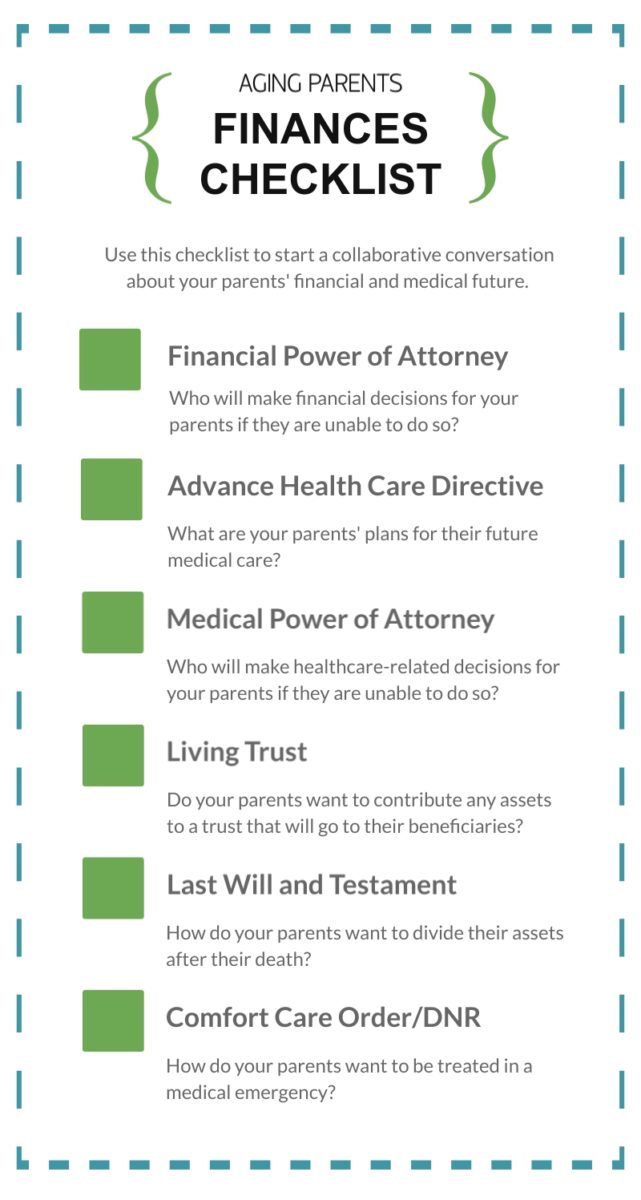 1. Establish power of attorney for finances
A power of attorney is a document in which the parents appoint someone to act for them. AARP says this about a power of attorney: The power of attorney allows you to pick someone you trust to handle your affairs if you cannot do so yourself. It gives you peace of mind, reassuring you that in an emergency, someone you choose will have the authority to act for you. If you don't have a power of attorney and you are suddenly incapacitated, your family may have to go through an expensive and time-consuming court action to appoint a guardian or conservator to make decisions for you.
2. Set up an advanced health care directive (AHCD)
An AHCD is a legal document that instructs others about your parents' medical treatment should they become too sick to verbalize decisions on their own. It becomes effective under the circumstances defined in the document, and allows your parents to do either or both of the following:
Appoint a health care agent. The AHCD allows your parents to appoint a health care agent (also known as "Durable Power of Attorney for Health Care," "Health Care Proxy," or "attorney-in-fact"). This person, usually a spouse or family member like a son or daughter, makes certain the wishes in the document are fulfilled.
Prepare instructions for health care. This is often called a "Living Will" and it summarizes your parents' requirements about life-sustaining treatment if they are terminally ill or in a coma. They provide the instructions for their future health so when they can no longer speak or are incapacitated in some way, their future care is clearly documented.
3. Establish power of attorney for health
The advanced health care directive (AHCD) will help your parents legally appoint someone, usually a family member, to make medical decisions for them in the case that they are unfit to do so themselves. Make sure you do this when you help your parents set up an AHCD.
4. Explore trusts
A trust is a legal device into which your parents' assets can be contributed. Monies contributed into the trust are no longer the property of your parents, but instead now belong to the trust. The trust can be set up in various ways so as to pay out income to your parents during their lifetime. Then, it can disburse the remainder of the assets to beneficiaries upon your parents' death.
5. Talk about wills and estate planning
As part of the estate planning and will process, a person can choose to make trusts or gifts to heirs or charitable organizations, which can be used to reduce the amount of taxes due upon death, as well as making sure that personal wishes are honored. If they have life insurance, now is also a good time to discuss the details.
6. Discuss a Comfort Care Order
A comfort care order allows your parents to specify how they want to be treated in their final days or hours. It lays out which medications they will receive, to what degree they will be monitored, how you will be notified, and more. You can also arrange for a DNR or do-not-resuscitate order. This is an order written by a doctor that tells medical professionals not to perform CPR if the patient stops breathing or their heart stops beating.
Planning ahead
Planning now for the future is essential. It protects your parent's finances and makes certain that their hard-earned assets are passed down to their family. If you or your parents need help budgeting or just want to speak to a certified credit counselor about money management, call Consolidated Credit today at 1-888-294-3130.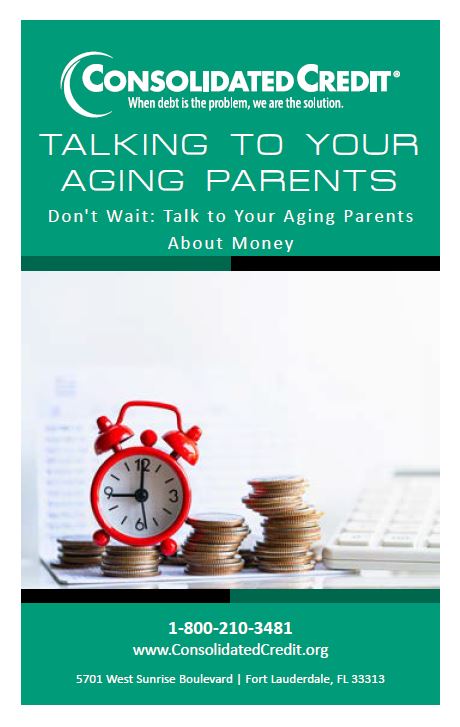 As you and your parents age, the roles you play in your financial lives will change. Instead of your parents helping you, they may need you to assist them. This guide covers everything you need to know to start productive conversations about finance with your parents.