Bring America Back: Setting a Financial Recovery Plan
Consolidated Credit is helping bring you back to financial stability.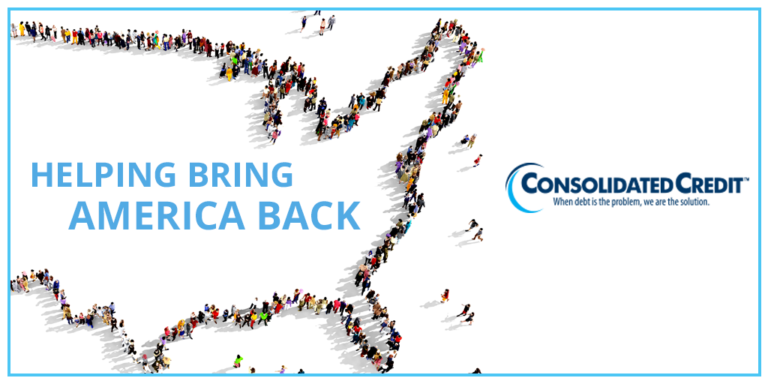 More than two months of quarantines, stay-at-home-orders, and business closures have left Americans living in financial chaos. Over 40 million Americans have filed for unemployment.[1] Almost half of households have lost income since mid-March and 39% expect they may lose income over the next month.[2] But as the country starts to reopen, there are signs that a recovery may finally be on its way, at least for some.
As people get back to work, it's important to set a financial recovery plan. Many Americans need to pay down credit card debt they were forced to take on during the crisis. With that in mind, Consolidated Credit has launched the Bring America Back Plan, which helps people customize strategies to regain financial stability.
How Consolidated Credit can help bring you back to stability
Featured Video:
Bring America Back: Free Help to Customize a Plan to Pay Off Debt
Consolidated Credit's President Gary Herman talks about the Bring America Back initiative can help you set a plan for financial recovery with the help of a certified credit counselor
Hi, I'm Gary Herman with Consolidated Credit
As you know as a nation, we've faced some unprecedented challenges lately.
Unfortunately, our challenges aren't fully behind us just yet.
In fact, they may just be beginning.
It's going to take hard work to get Americans back to where we were, but together we will recover and hopefully come back even stronger.
That's why we've launched our Bring America Back Plan.
Our goal is to help every American get back on their feet.
Our certified counselors are available to you for free, to answer any of your questions and identify financial solutions that can help bring you back, too.
Whether you were already in debt or you've been forced to take on more debt than you wanted, we can help you customize a plan to pay off your debt as quickly as possible.
As part of Consolidated Credit's Bring Back America Plan, our certified counselors will advise you on all of your financial options to pay off your debt.
We can even help you save you money right from the start by waiving your first fee if you qualify for our debt management program.
Help us, help you and let's Bring America Back …together.
Step 1: Receive a free debt and budget analysis from a certified credit counselor
A certified credit counselor will help you set up a realistic budget based on your current income and financial situation. This budget will set the foundation for your financial recovery plan.
The counselor will also gather information on your debts to understand how much you owe, what's behind, and what accounts you may have in deferment or forbearance.
Step 2: Get answers and learn about your financial options
Your credit counselor can also answer questions you may have about your bills, debts, credit, and budget. They will also help you understand solutions that can make it easier to get out of debt, including:
Based on your budget and where your debts stand, the counselor will help you find the best option to use based on your financial situation.
Step 3: If debt management is right for you, the counselor will help you customize a payoff plan
A debt management plan is a repayment plan that pays off credit card debt more efficiently by minimizing interest. You pay back everything you owe, which helps you avoid damaging your credit. Your creditors agree to reduce or eliminate interest charges, which makes it easier to pay off your debt faster.
If the plan is the best option for you, Consolidated Credit will waive the initial setup fee, so you can start saving immediately as you work to get out of debt.
This plan may also help you address challenges with other unsecured debts, such as:
Personal loans
Medical bills
Payday loans
Things to consider as you set your financial recovery plan
The Bring America Back plan will help you set a budget and plan to eliminate your credit card debt. However, there are other considerations that you may also need to keep in mind:
Call 844-360-8939 to start working one-on-one with a certified credit counselor on your financial recovery plan.