Consolidated Credit is helping bring you back to financial stability.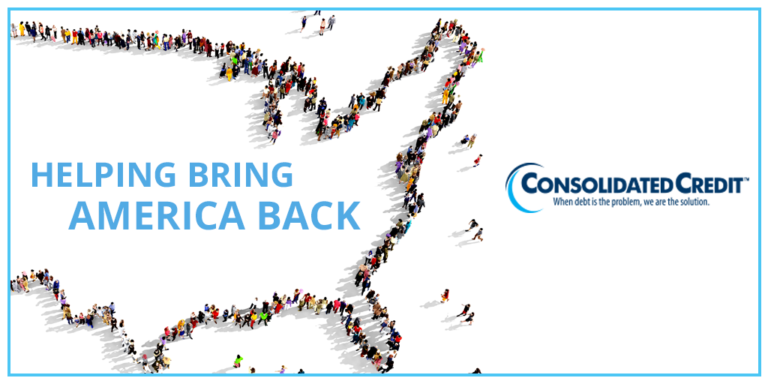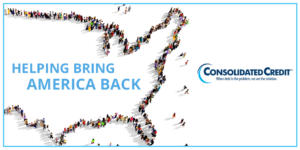 More than two months of quarantines, stay-at-home-orders, and business closures have left Americans living in financial chaos. Over 40 million Americans have filed for unemployment.[1] Almost half of households have lost income since mid-March and 39% expect they may lose income over the next month.[2] But as the country starts to reopen, there are signs that a recovery may finally be on its way, at least for some.
As people get back to work, it's important to set a financial recovery plan. Many Americans need to pay down credit card debt they were forced to take on during the crisis. With that in mind, Consolidated Credit has launched the Bring America Back Plan, which helps people customize strategies to regain financial stability.
How Consolidated Credit can help bring you back to stability
Featured Video
Bring America Back: Free Help to Customize a Plan to Pay Off Debt
As businesses reopen and people get back to work, Consolidated Credit is doing its part to help Bring America Back to financial stability. In this video, Gary Herman, President of Consolidated Credit explains how our Bring America Back plan can help consumers get back on track financially.
Hi, I'm Gary Herman with Consolidated Credit
As you know as a nation, we've faced some unprecedented challenges lately.
Unfortunately, our challenges aren't fully behind us just yet.
In fact, they may just be beginning.
It's going to take hard work to get Americans back to where we were, but together we will recover and hopefully come back even stronger.
That's why we've launched our Bring America Back Plan.
Our goal is to help every American get back on their feet.
Our certified counselors are available to you for free, to answer any of your questions and identify financial solutions that can help bring you back, too.
Whether you were already in debt or you've been forced to take on more debt than you wanted, we can help you customize a plan to pay off your debt as quickly as possible.
As part of Consolidated Credit's Bring Back America Plan, our certified counselors will advise you on all of your financial options to pay off your debt.
We can even help you save you money right from the start by waiving your first fee if you qualify for our debt management program.
Help us, help you and let's Bring America Back …together.
Step 1: Receive a free debt and budget analysis from a certified credit counselor
A certified credit counselor will help you set up a realistic budget based on your current income and financial situation. This budget will set the foundation for your financial recovery plan.
The counselor will also gather information on your debts to understand how much you owe, what's behind, and what accounts you may have in deferment or forbearance.
Step 2: Get answers and learn about your financial options
Your credit counselor can also answer questions you may have about your bills, debts, credit, and budget. They will also help you understand solutions that can make it easier to get out of debt, including:
Based on your budget and where your debts stand, the counselor will help you find the best option to use based on your financial situation.
Step 3: If debt management is right for you, the counselor will help you customize a payoff plan
A debt management plan is a repayment plan that pays off credit card debt more efficiently by minimizing interest. You pay back everything you owe, which helps you avoid damaging your credit. Your creditors agree to reduce or eliminate interest charges, which makes it easier to pay off your debt faster.
If the plan is the best option for you, Consolidated Credit will waive the initial setup fee, so you can start saving immediately as you work to get out of debt.
This plan may also help you address challenges with other unsecured debts, such as:
Personal loans
Medical bills
Payday loans
Things to consider as you set your financial recovery plan
The Bring America Back plan will help you set a budget and plan to eliminate your credit card debt. However, there are other considerations that you may also need to keep in mind:
Many mortgage lenders have offered homeowners forbearance programs, which pause or reduce monthly payments for a time. If your mortgage has been in forbearance, you will need to understand and plan for what will happen once the forbearance period ends.
If you don't talk to your lender, they may expect you to repay the full amount missed in a lump sum. This can be difficult as you're working through your financial recovery plan. You may need to set up a repayment plan that makes smaller catchup payments over a longer period.
You can talk to a HUD-certified housing counselor to understand your options. To speak with a counselor for free, call 1-800-435-2261.
Some auto lenders offered forbearance programs. If you've skipped one or more payments during the crisis, call the lender to decide how you'll catch up. You may want to set up a catchup payment plan, where you add a set amount to your monthly payments that you can afford. This will allow you to catch up over time, which will minimize the burden of getting back on track.
Many states have suspended utility shutoffs during shutdowns, so your service was not interrupted if you couldn't pay. Your account also would not be sent to collections. However, keep in mind that suspension is not forgiveness. You likely still owe the payments that you missed.
If you have bills that are behind, let your counselor know. They can offer guidance on how to talk to service providers about catchup payments for services as well. They can also help you determine the payments you can afford to make on your budget if you need to catch up.
The People's First Initiative from the IRS has suspended payments on Installment Agreements and Offer in Compromise plans. The suspension is in place until July 15.
However, the initiative does not stop penalties and interest. Any tax debt you have is continuing to grow with daily compounding interest up to 25%. Although your payments may be paused, you can make payments if you can do so. It's in your best interest to get your tax debt paid.
Under the CARES Act, federal student loan payments are suspended until September 30, 2020. What's more, the interest rate on these loans has been reduced to 0%, so the debt isn't growing while the payments are suspended.
This can give you some welcome breathing room on some of your debt. You can take advantage of this and use those funds to catch up on other debts like the ones mentioned above.
The CARES Act did not affect payments on private student loans. So, you will need to work with the lenders directly to decide how you will catch up if they've allowed you to miss or make reduced payments.
Call 844-360-8939 to start working one-on-one with a certified credit counselor on your financial recovery plan.
Sources:
[1] https://www.cnn.com/2020/05/28/economy/unemployment-benefits-coronavirus/index.html
[2] https://www.census.gov/library/stories/2020/05/new-household-pulse-survey-shows-concern-over-food-security-loss-of-income.html